Summary
iPhone not receiving calls or can't make calls after updating to iOS 10/11, or iOS 11.1/11.2/11.3/11.4? Read this post and get some solutions. These methods work for all models of iPhone.


Free Download
Each year we would hear lots of complains that iPhone call failed after updating to new iOS, and this year is not an exception. After updating to iOS 10 or iOS 11/11.1/11.2/11.3 or even iOS 11.4, some iPhone 5s/6/6s/7 and even iPhone 8/X users complain that their iPhone won't make calls or not receiving calls.
Don't Miss: How to Fix iPhone 7 will Not Backup to iCloud >
You may see "Call Ended" or "Call Failed" screen when trying to dial, or you cannot receive incoming calls (the phone is disconnected) but can receive messages. This article will show you how to fix iPhone 5/6/6s/7/8/X not receiving or making calls after iOS 11/10 update.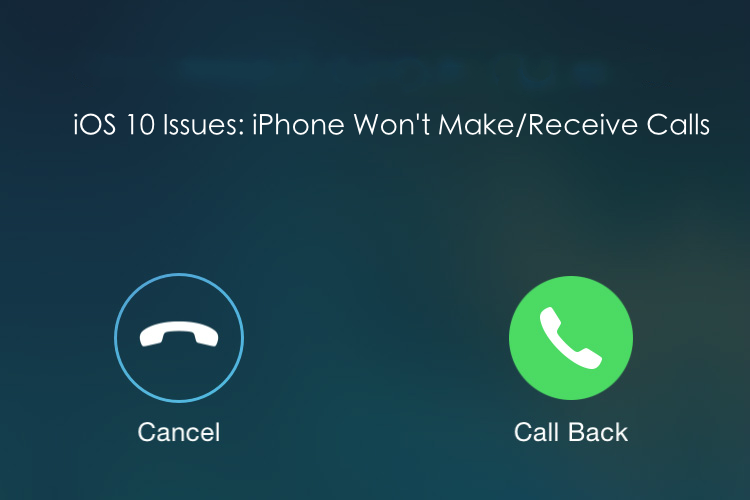 How to Fix iPhone Won't Make or Receive Calls
How to Fix iPhone 5s/6/6s/7/8/X Not Making or Receiving Calls
When your iPhone failed to make calls, the first thing to do is checking if your account is in active. Some service providers/carriers will deactivate outgoing call services due to late payment or unpaid bills. If the problem continues, try the following workarounds.
1. Ensure your phone is in a good signal. If you see No Service or Searching in the status bar at the top left of the screen, it means your device is unable to connect to a cellular network and you will not be able to make or receive calls. In this case, make sure you are in an area with network coverage, and make sure there is no network outage.
2.  Turn Airplane mode on, wait for the airplay symbol to appear in the status bar, and then turn it off again.
3. Reset Network Settings: Tap Settings > General > Reset > Reset Network Settings.
4. Update your carrier: Make sure your iPhone is connected to the Internet > Tap Settings > General > About.
5. Verify blocked phone numbers: go to Settings> Phone> Block. Make sure the phone number you try to call is not in the block list.
6. Try re-inserting the SIM card. Remove and re-insert your SIM card, and make sure it is properly secured in place.
7. Try to restore your phone and set it up as new.

The Bottom Line
We also see some users fix this problem by dialing *#31#, and you can try this if you still fail to make calls after trying the above methods. If iMessage/Message are not working on your iPhone, please check out How to Fix Message Problems on iOS 10/11 Devices.
Fixes for iPhone 6/6s/7/8/X Won't Make or Receive Calls After iOS 11/10 Update