How to Fix iPhone iPad Charging Issues After iOS 14 Update
After installing iOS 14, you may meet some charging problems: the iPhone not charging or charging slowly. Read to get some solutions to fix the iOS charging issues.

Joy Taylor
Last Updated: Dec. 08, 2020
iOS Update Tips & Problems
iOS Update Tips
Problems During iOS Update
Problems After Update
We've seen many users complained that iOS 14.2 causes severe battery drain issues after upgrading to the new iOS 14 on their iPhone, and the iPhone/iPad won't charge or charge slowly. The new iOS brings a set of fun features, but it is possible that you may meet kinds of iOS issues like the charging problems we just mentioned.
Also Read: How to Backup iPhone in Recovery Mode with Ease
Mostly it's a hardware problem with the USB or Dock connector or wall adapter, but sometimes it's a software issue that some potential solutions may fix it. Before contacting Apple for help, follow this article and we'll get you back up by offering several quick fixes to the iPhone not charging or charging slowly problem in iOS 14.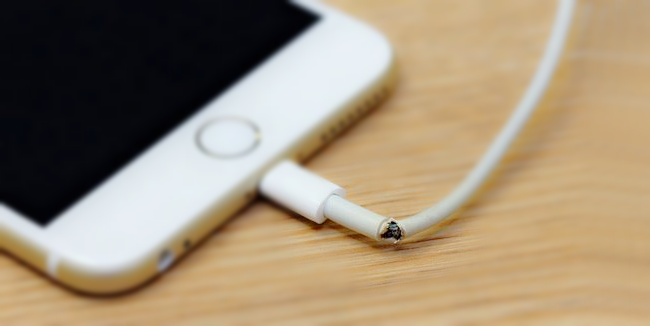 How to Fix iOS Charging Issues in iOS
How to Fix iPhone Won't Charge Issues After iOS 14 Update
When plugging your iPhone or iPad into the wall outlet or computer, you find that it is not charging. Why? This is a common issue many users complained about. Before you change a new battery, there are some solutions that are worth-a-try.
Always use official Apple-matched chargers. If you use some cheap cables that are low quality, you'll usually encounter an error that the cable is not certified on the iPhone (or iPad). This may be what is causing the iPhone not charging issue.
Hard reset your iDevice. In many cases, restarting or hard rebooting your device will fix this issue easily.
Check the lighting cable for damage. Most of us have experienced a broken charging cable at some point. The exposed internal wires are not safe to charge your iDevice and that might be why your iPhone or iPad won't charge when plugged in.
Change the wall outlet or Apple lighting cable if available.
Turn off your iDevice and charge it: Just Press and hold the Sleep/wake button > Turn off your iPhone/iPad when you see "Slide to power off" > Charge your iDevice now.
Restore your device running iOS 14 with iTunes. Firstly, backup your iPhone or iPad with iTunes, and then restore it from the backup you just created.
iPhone Charging Slowly Issues After iOS 14 Update
Is your iPhone or iPad charging slower than usual after download the new iOS? Get some quick tips to get your iPhone or iPad charged faster in this part.
1. Clean up the Charging Port of Your iPhone or iPad. After a period of use, the lightning port of your iPhone or iPad may get full of dirt or dust that reduces the charging speed of your iDevice. Firstly shut down iPhone/iPad and then use toothpicks or a dry soft toothbrush to get all the dirt out of the charging port.
2. Use an iPad Charger for iPhone. To charge your iPhone quicker you can try using an iPad charger if you got one.
3. Turn on Airplane Mode and Turn off Wi-Fi While Charging. In this way, you won't be able to make or receive calls, messages, and notifications or connect to the network, but this makes the battery charge faster.
4. Turn off iPhone/iPad While Charging. This is just like the third method, you can charge faster by turning off your iDevice while charging, and you can try this method during the night when you won't need to use your iPhone or iPad.
Part 3. Fix iPhone Charging & Other iOS 14 Problems with AnyFix
AnyFix – iOS System Recovery is a professional iOS system and iTunes repair tool. With it, you can fix 130+ iOS / iPadOS / tvOS issues and iTunes problems. If the above methods not working, you can have a try on AnyFix to solve the iPhone charging issues. It can also quickly put or get your iPhone out of recovery mode.  Download AnyFix – iOS System Recovery on your computer and follow the steps below to fix the iOS system issue:
Step 1. Open AnyFix and connect your iPhone to your computer with a USB cable. Choose System Repair.
Step 2. Choose iPhone Problems and click on Start Now.
Step 3. You will need to download firmware for your iPhone. Click on Download.
Step 4. After downloading the firmware, you can start repairing your iPhone system. Click Fix Now. After that, you can check if the charging issues be sloved or not.
The Bottom Line
If you have any good suggestions to fix iPhone not charging issue after the iOS 14 update, please share it with us in the comment sections. If you feel this article is helpful, you can share it with your families or friends to help more people.