How to Restore iPad from iPhone Backup
How to restore iPad from iPhone Backup? what things you should know before restoring iPhone backup to iPad? Read this guide to know the detail.

Tom Boyer
Last Updated: Mar. 20, 2020
iPad Tips & Issue Fixes
iPad Issues Fixed
iPad Music & Video Tips
"I just got an ipad – used but reset to defaults. Is there any way to "restore" it from an iPhone backup? I realize they are different devices, but there are many apps and settings and email settings, etc on the iPhone that I want exactly the same on the iPad."
– Randy questioned on Apple Forum
After getting one iPad that has no data and setting, you may want to transfer some files and apps from your iPhone to the iPad so that you can make full use of its entertainment features. Therefore, restoring iPad from iPhone backup becomes your best choice to make it. However, there are some things you should know before you start to restore iPad.
Some Data You Can't Restore from iPhone Backup to iPad
Apple Support shows that there are some files you can't transfer if you want to restore iPad from iPhone backup (iTunes & iCloud). Check the list below:
Camera Roll Photos
Messages and Messages attachments in Messages App
Voice Memos
Apps that aren't compatible with the iPad or the operating system of the iPad
Sometimes You Can't Select an iPhone Backup to Recover
It is possible that you couldn't select an iTunes backup or iCloud backup you created if you login with a different iTunes/iCloud account or your iPad has an earlier iOS version than your backup. For example, if you get an old iPad with iOS 12 operating system, you can't restore it from one iPhone backup in iOS 13, no matter the backup is created by using iTunes or iCloud.
In this situation, you should update your iPad to the latest version of iOS operating system, or you can use one iPhone backup extractor tool to transfer data from iPhone backup to computer, and then sync the data to your iPad.
How to Restore iPad from iPhone Backup with iTunes/iCloud
In most cases, you can restore iPad from an iPhone backup by following the process Apple provides to you, and transfer almost all of your iPhone data and setting to your iPad. The following two tutorials may help you:
Restoring will take a long time. You'd better connect your iPhone to a charger, and make sure that important data in your iPad are backed up to iTunes or iCloud. Plus, if your iTunes backup is encrypted, you need to enter the password to unlock your iPad backup.
Transfer/Clone/Merge Contents from iPhone to iPad without Restoring
If you want to clone a new iPad with your iPhone data, you can use AnyTrans to transfer/clone/merge specific items from iPhone to iPad without iTunes/iCloud. This tool is useful, especially when you want to transfer some data that you can't restore from iPhone backup to iPad, such as messages.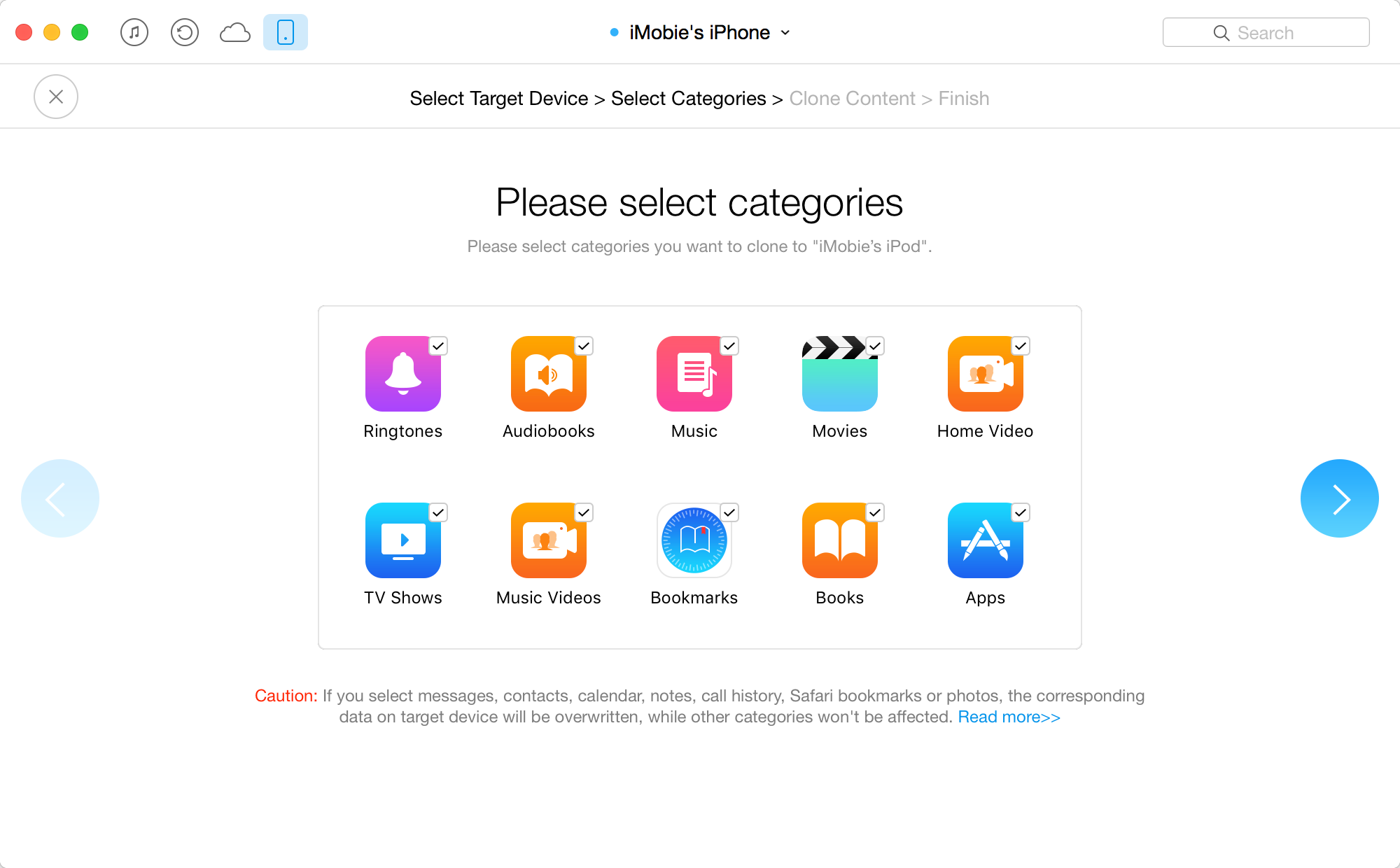 Clone Content from iPhone to iPad with AnyTrans