How to Recover Deleted Videos from iPad
Summary
Is it possible to recover deleted videos from iPad? This guide will introduce you two ways that may help you recover purchased videos or videos taken by iPad's built in camera.
Try the free trial of PhoneRescue to recover deleted media files and personal info from iPhone iPad iPod touch. Now keep reading to learn how to recover deleted videos/photo videos from iPad.
By the nature an iPhone is always in danger of getting damaged, lost or stolen. How about your important iOS data? To help you recover your lost or mistakenly deleted photos, messages and other data on your iPhone, we collected 5 top best iPhone Data Recovery Software and evaluate them carefully to provide valuable references for you.
We know that the iPad is featured with retina display, which makes it the idea video player to play videos purchased from iTunes Store or taken by its built-in camera. However, you may lose those lovely videos due to many reasons, such as, accidental deletion, device crash, a failed iOS upgrade or jailbreak, etc.
As known to all, there are two kinds of videos stored in our iPad, one is purchased or downloaded from iTunes Store, the other one is taken by the iPad's built-in camera. Naturally, if you want to recover deleted videos from iPad, the ways should be varied from different kinds.
Can't Miss: How to Transfer Videos from iPad to Computer without iTunes >
1. How to Recover Videos Purchased from iTunes Store
According to the post named iCloud Storage and Backup Overview from Apple Official Website, we know that the iCloud backup just include the information about the videos your purchased or downloaded from store instead of the videos themselves.
Therefore, if you delete or lose some purchased videos on your iPad, they will be automatically downloaded from store when restoring your iPad with an iCloud backup.
Note:
- This method is applied to recover music videos, movies, TV shows and other videos purchased or downloaded from store.
- Downloading videos automatically when restoring your iPad with iCloud backup, this is only limited to the video are still available in the store.
With the statement above, you can easily get purchased videos back. Next we will pay more attention to how to recover deleted iPad videos from camera roll.
2. How to Recover Deleted iPad Videos from Camera Roll
We know that both iTunes and iCloud backup contain the photos and videos taken by iPad. If you have created backup before deleting videos from iPad, you can get them back by restoring your device (the existing data will be replaced). Otherwise, you will need an another amazing data recovery tool - PhoneRescue, which aims at helping users easily get back data from both Android and iOS. PhoneRescue - iOS data recovery is qualified to recover deleted videos on iPad directly or extract them from iTunes or iCloud backup.
Download PhoneRescue and Start Free Trial Now >
How to Recover Deleted Photo Videos from iPad with PhoneRescue
Step 1. Launch PhoneRescue and connect your iPad to computer with USB cable, then select Recover from iOS Device and click on arrow button.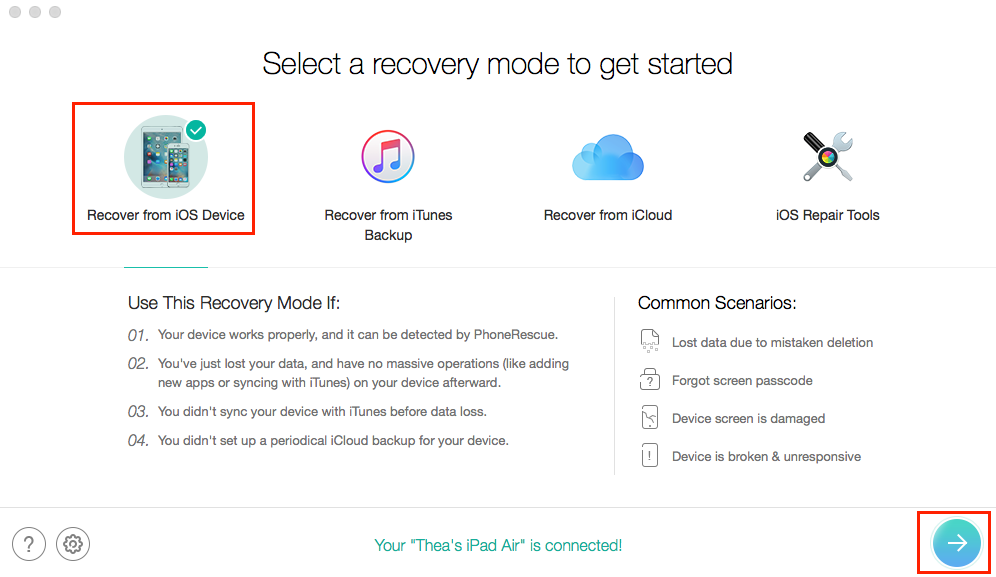 How to Recover Deleted Videos from iPad – Step 1
Step 2. Tick Photo Videos and Videos, click on OK to scan videos on your iPad.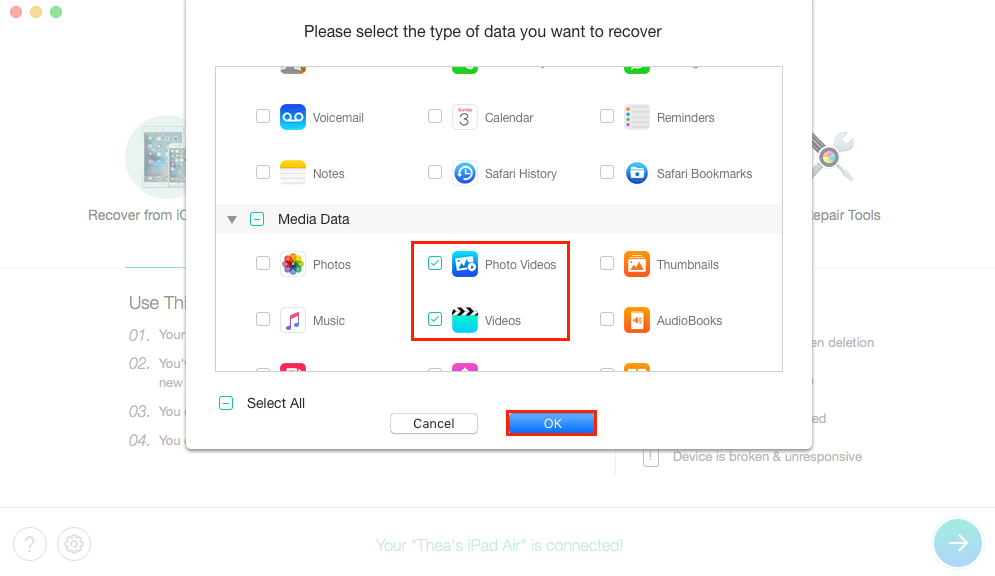 How to Recover Deleted Videos from iPad – Step 2
Step 3. Select the videos you want to recover. Then click on To Computer button to start downloading selected videos to computer.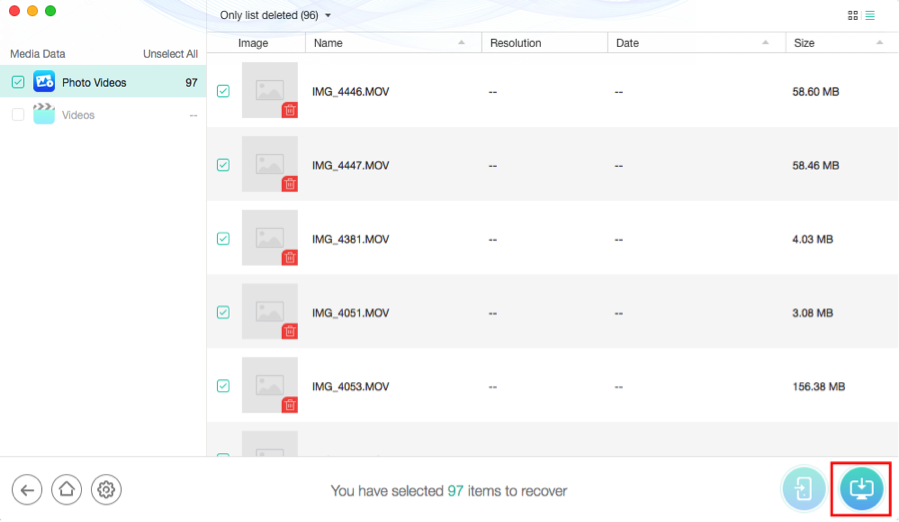 HHow to Recover Deleted Videos from iPad – Step 3
Once you have recovered deleted iPad videos to your computer, you can sync them to your iPad with iTunes or use iMobie AnyTrans to make it.
Note:
- This tutorial can be also applied to recover deleted videos from iPhone and iPod touch.
- If you are working with iPad, which is equipped with an A4 chip, you can switch to Advanced Mode to get a deeper scan so that you can recover more deleted videos from iPad.
- Besides videos, PhoneRescue is also able to get back contacts, messages, photos, notes, call history, calendar, etc.
The Bottom Line
With PhoneRescue and this detailed tutorial, you can recover deleted videos from iPad easily and quickly, why not download and try it now? If you meet any problem when recovering deleted iPad videos with PhoneRescue, be free to contact us by emailing us or leaving a comment, we will reply to you as soon as possible.
Top Posts on Recovering iPhone Lost Data:
More Related Articles You May Like
Share Your Thoughts With Us