Remove SIM Lock
Firstly, we would like to share some problems our customers encountered:
"My iPhone prompts "SIM Not Valid" when I insert a new SIM card. Can you help me to solve this issue?"
"I need your help. My SIM card is locked. Could you help me? Thanks."
If you just encounter the similar situation above (Locked by iPhone SIM), don't worry. You can try "Remove SIM Lock" mode to remove iPhone SIM lock with a few clicks. The following instructions will help you do it.
Tech Specs
| | |
| --- | --- |
| Windows OS | Windows 11, 10, 8, 7, Vista, both 32bit and 64bit |
| macOS | macOS Ventura, macOS Monterey, macOS Big Sur, macOS Catalina, macOS Mojave, macOS High Sierra, macOS Sierra, OS X 10.11 |
| iOS | iOS 12 - iOS 15 (iOS 12.4.5 & 12.4.6 excluded) |
Supported Device Models
| | |
| --- | --- |
| iPhone Series | iPhone 5s to iPhone X |
Differences between Trial & Activated Version
| | | |
| --- | --- | --- |
| Benefits | Free Version | Activated Version |
| Remove SIM Lock | | |
Important Information You May Concern
We take your satisfaction in priority. We truly hope you will have a happy experience with iMobie. Thus, we highly recommend you to read the restrictions before purchasing AnyUnlock - iPhone Password Unlocker. If your device or iOS version is not supported, please do not purchase it.
Supported iOS Version
iOS 12 - iOS 15
Device Model
iPhone 5s to iPhone X
Jailbreak Effect

1. Cannot use SIM cards to make calls and use cellular data to surf the Internet.

2. Cannot make FaceTime and send iMessages.

3. Cannot log in to a new iCloud account in the account settings.

4. Cannot be used with iTunes.
Step 1.

Download AnyUnlock - iPhone Password Unlocker on Your Computer.

Before you start to remove SIM lock, get the tool downloaded onto your computer. Please make sure the network is stable while downloading and installing AnyUnlock - iPhone Password Unlocker on your computer.
Step 2.

Connect Your iPhone to Computer via a USB Cable.

After downloading the app on your computer, please launch it on your computer and choose "Remove SIM Lock" mode.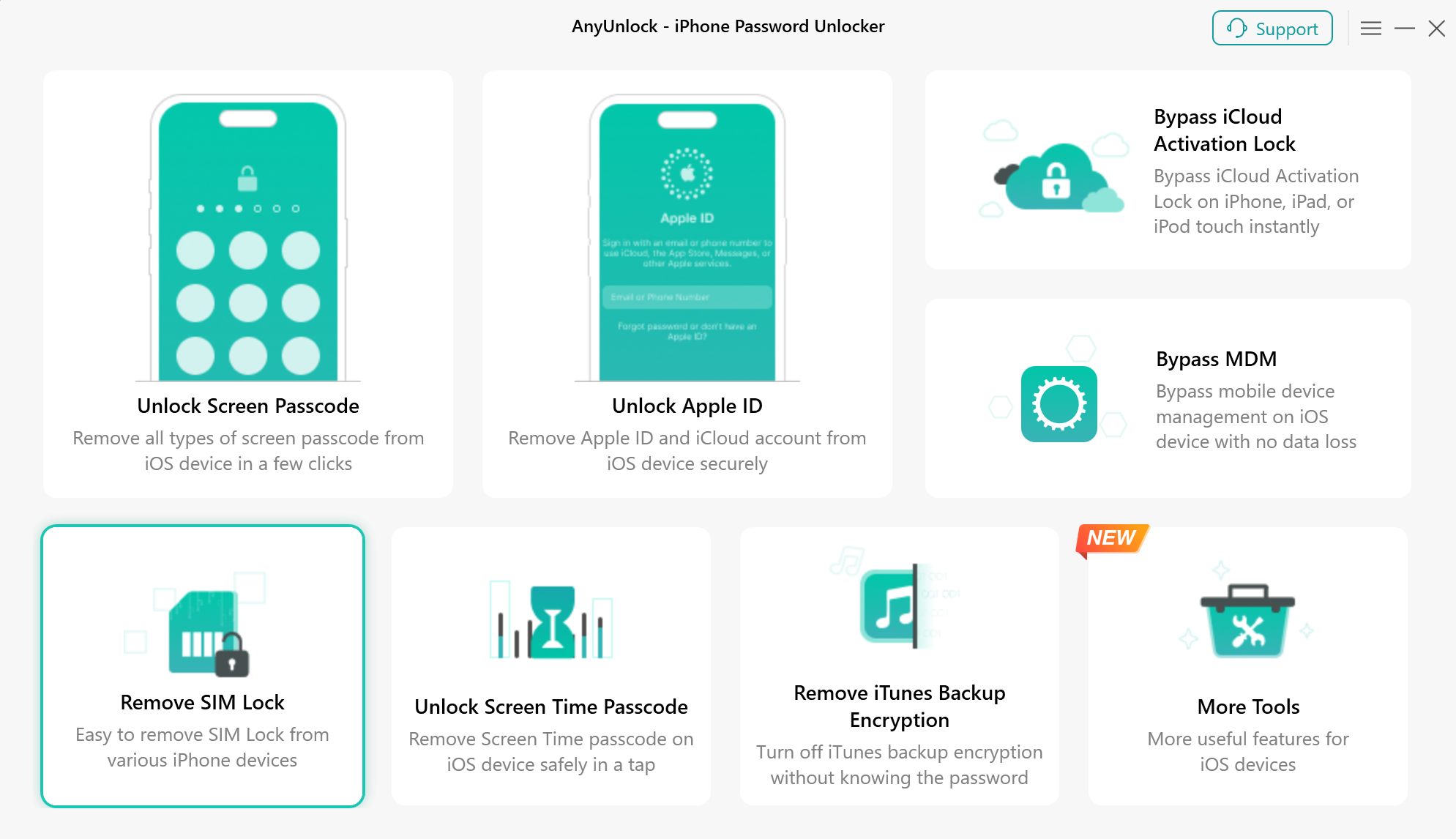 Currently, AnyUnlock only supports devices running iOS 12 to iOS 15 (iOS 12.4.5 & 12.4.6 excluded). These are the supported device models:
iPhone 5s to iPhone X
Please connect your iPhone to the computer via a USB cable. Then, please click the "Start Now" button.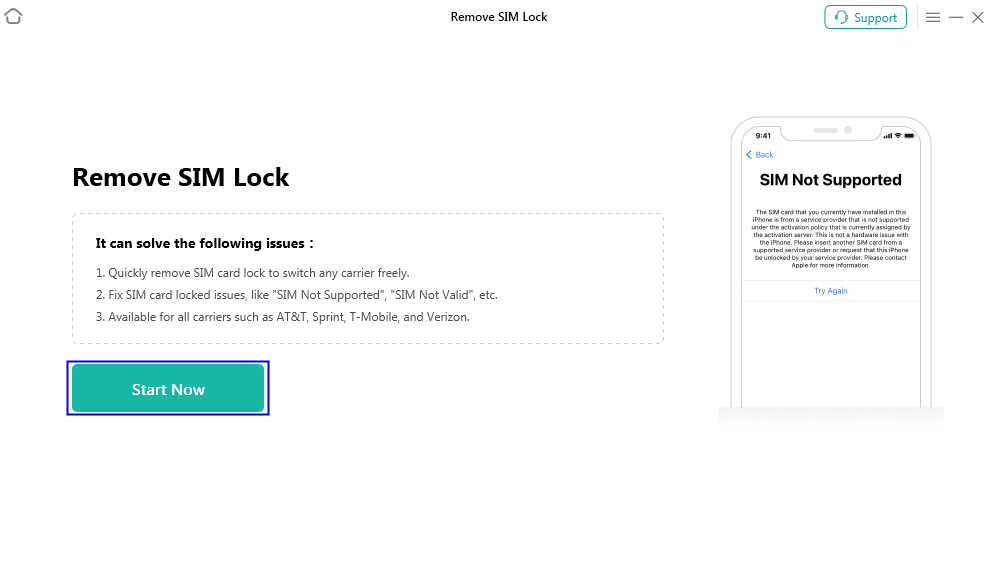 After your device is detected, you will see the interface below.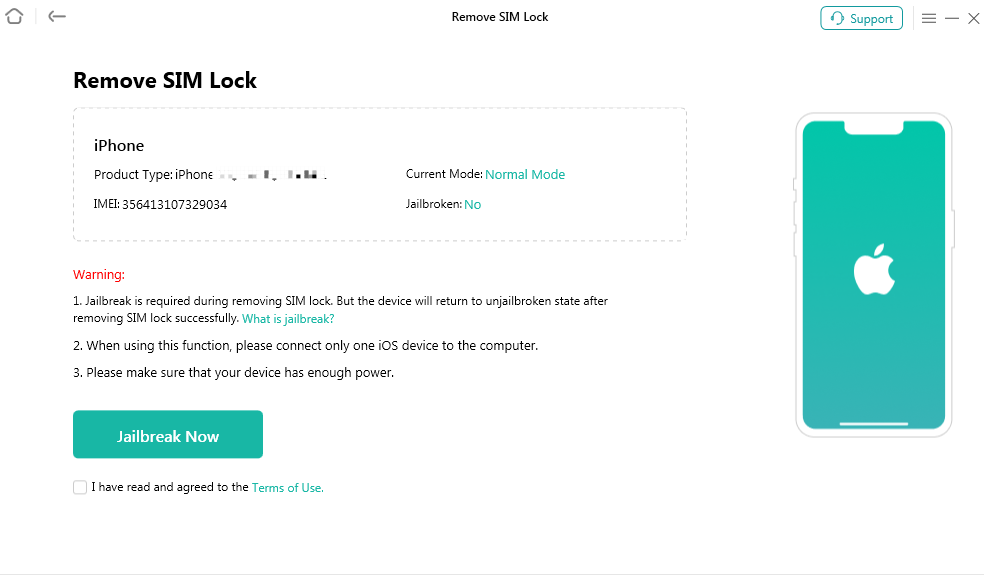 Step 3.

Jailbreak Your iOS Device.

Then you will enter the Remove SIM Lock interface. You can view the Basic info about your device. Please click the "Jailbreak Now" button.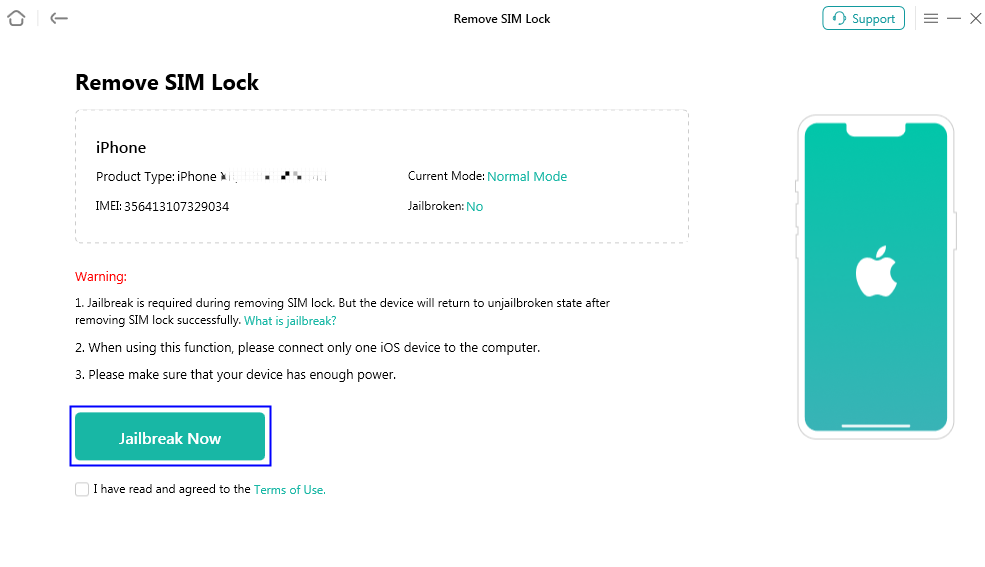 The possible effects after the jailbreaking:
a. Cannot use the iOS device's function of Phone Call, Cellular Data.
b. Cannot make FaceTime calls or send iMessages.
c. Cannot sign in to iCloud with your new Apple ID from Settings.
d. Cannot be used with iTunes.
Please read the "Terms of Use" carefully before using. If you agree, please remember to check the option and click the "Confirm" button.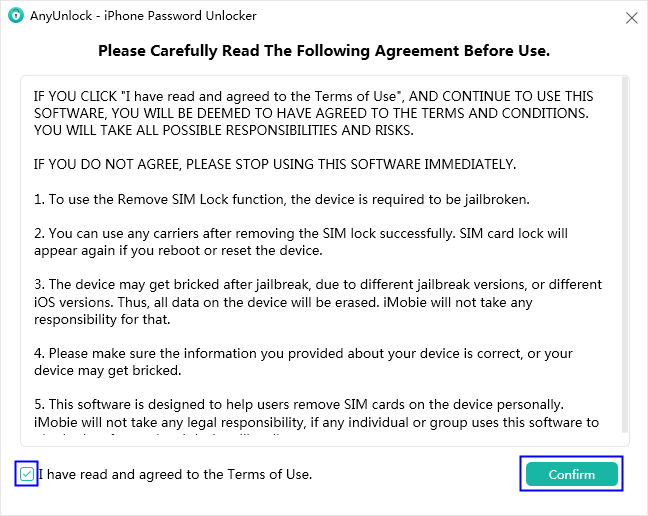 For the Windows user, the program will provide a jailbreak tutorial. Just click on the button "Jailbreak Tutorial" and follow the guide to finish the whole process. When the jailbreak is done, please click "Next" to continue.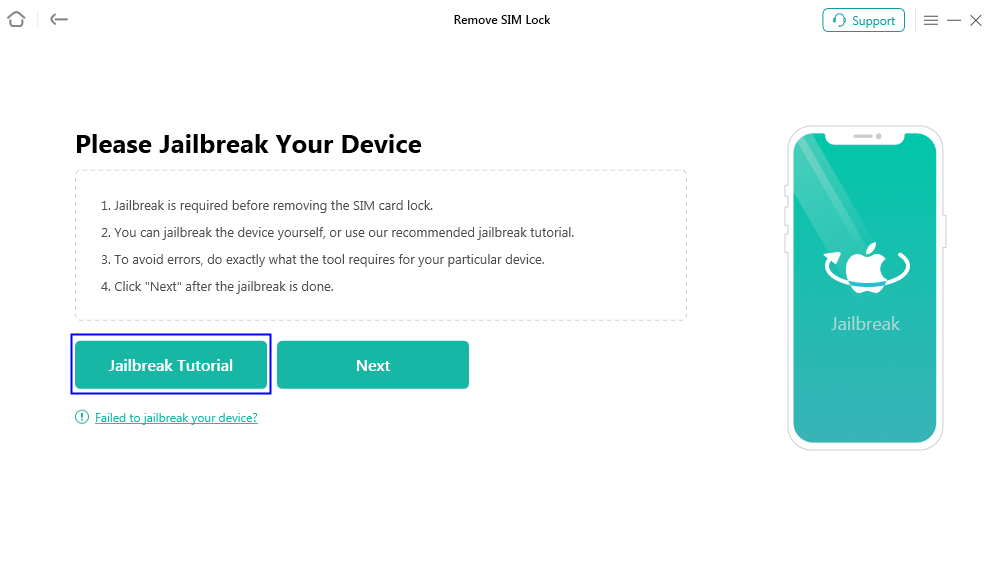 For Mac users, you need to put your device into the DFU mode, and the app will automatically download the jailbreak tool Checkra1n. Please ensure a good network connection during the download process.
After you click the "Next" button, you will see the interface below, and please click the "Remove Now" button.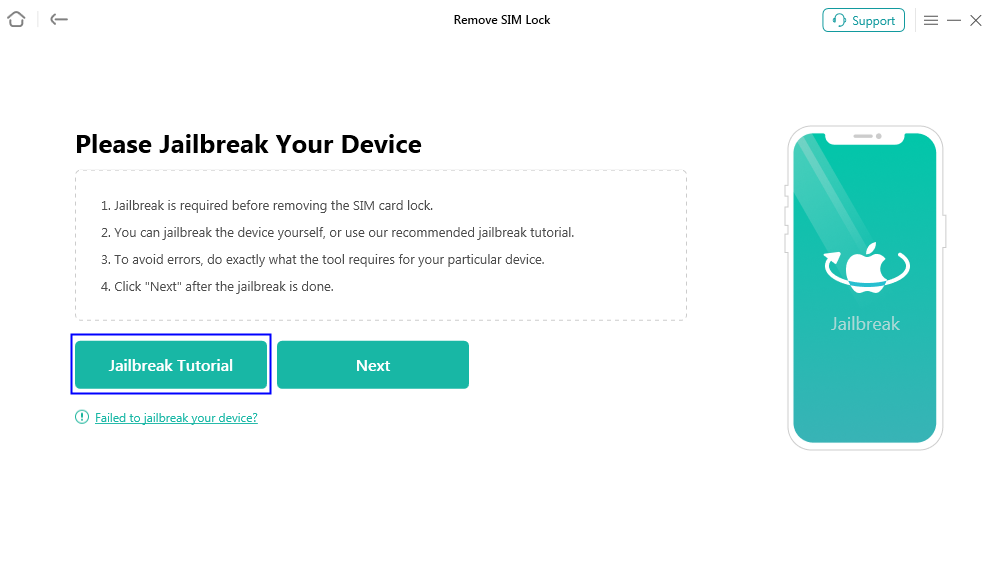 Step 4.

Turn off Wi-Fi And Remove & Re-insert Your SIM Card.

Before unlocking, you need to make sure that the Wi-Fi on your iPhone has been turned off and the SIM card has been removed and re-inserted. Please follow the instructions below to operate your device.

1. Remove the SIM card in your device, and enter the Home Screen.

2. Go to Settings > WLAN > tap Forget This Network to forget all Wi-Fi you've joined, including those in MY NETWORKS > turn off WLAN.

3. Insert SIM card into the device, click Continue button below to remove SIM lock.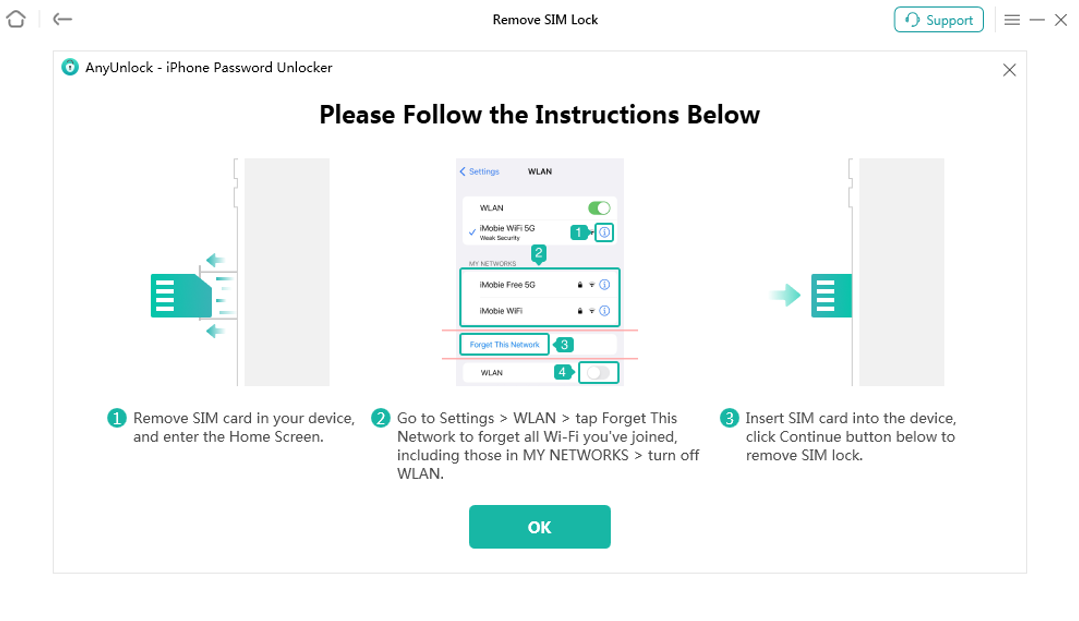 Step 5.

Remove iPhone SIM Lock Successfully.

After finishing the operations above, you can click the "Unlock" button to remove the SIM lock. Please keep the device connected and don't exit our software during the process.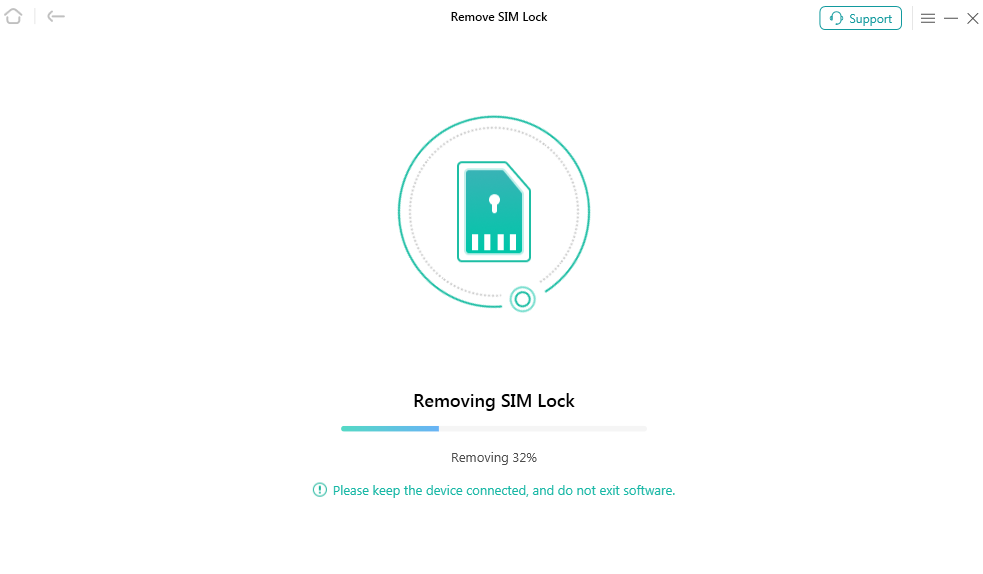 Once the process is completed, you will see the interface below.