How to Completely Remove and Reinstall iTunes on Windows Easily
Summary
How to completely remove and reinstall iTunes on Windows XP / Vista and / 7? We will show you a complete guide about removing and reinstalling iTunes on Windows computer.
Download this award-winning application so that you can make use of it after reading this How to Completely Remove and Reinstall iTunes guide.
In some instances, you may not be able to use our software to find or detect your iOS devices. Based on our experience, this situation is possibly caused by that some of the iTunes components have been distorted or modified by other programs. To repair this, you may need to remove all traces of iTunes, QuickTime, and related components from your computer before reinstalling iTunes.
Don't Miss: How Can I Transfer Music from iPhone to iTunes >
NOTES:
You may concern about the iTunes Store purchases or songs imported from CDs will be deleted. Don't worry. They are saved in your My Music folder by default and are not remove even you completely remove iTunes. However, we still recommend you to ensure that your iTunes library is backed up. If you're unsure how to backup, see iTunes: Back up your iTunes library by copying to an external hard drive.
These iTunes removing and reinstalling steps may take a large amount of time to complete, depending on your computer system performance.
Tip 1: The current iTunes 11.1.5 for Windows (64-bit) is with 142MB file size (222MB for Mac OS X), so make sure your computer has at last 400MB of available disk space to install the iTunes 11.
Part 1: Open Control Panel, Remove iTunes and related components
Use the Control Panel to uninstall iTunes and related software components in the following order and then restart your computer: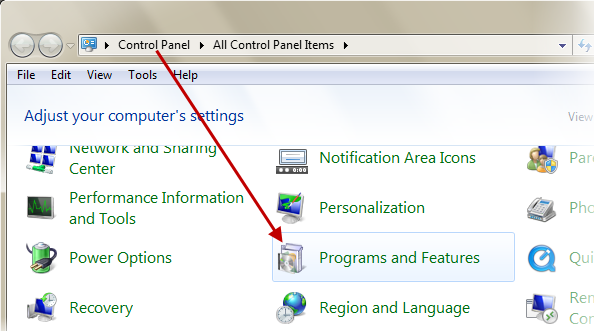 Remove iTunes and related components from Control Panel
iTunes
QuickTime
Apple Software Update
Apple Mobile Device Support
Bonjour
Apple Application Support (iTunes 9 or later)
Important: Uninstalling these components in a different order, or only uninstalling some of these components may have unintended affects.
Uninstalling iTunes components in this order
Part 2: Verify iTunes and its components are completely uninstalled
In most cases removing iTunes and its related components from the Control Panel will remove all supporting files belonging to those programs. In some rare cases though, files may be left behind. After following the previous steps, you should confirm that the following files and folders have been removed. If any are left behind, remove them now: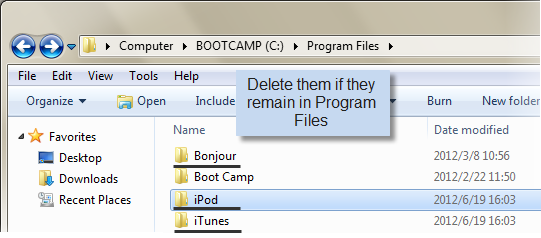 Check iTunes and components are completely uninstalled
C:\Program Files\Bonjour
C:\Program Files\Common Files\Apple\ (At times the system may keep you from deleting this folde. You need to restart computer and then remove this folder.)
C:\Program Files\iTunes\
C:\Program Files\iPod\
C:\Program Files\QuickTime\
C:\Windows\System32\QuickTime
C:\Windows\System32\QuickTimeVR

If you have a 64-bit version of Windows, you will need to confirm that the following folders have been removed as well:
C:\Program Files (x86)\Bonjour
C:\Program Files (x86)\Common Files\Apple\
C:\Program Files (x86)\iTunes\
C:\Program Files (x86)\iPod\
C:\Program Files (x86)\QuickTime\
C:\Windows\SysWOW64\QuickTime
C:\Windows\SysWOW64\QuickTimeVR

Part 3: Reinstall iTunes and related components
If the issue you are troubleshooting is not resolved after following these steps, it is not necessary to remove and reinstall iTunes multiple times. Instead, you may find helpful information on the Apple iTunes Support page, such as troubleshooting steps related to specific alert messages.
Tips 1: for Windows XP users, the detailed steps may have some differences;
2. After uninstall iTunes with the traditional way through Programs and Features in Windows Control Panel, it is very important to verify iTunes and its components are completely uninstalled;
3. Please also note that we are not sure this tutorial can 100% solve your trouble. So if there is no luck with this help page, please feel free to contact us and let we know all details about your situation so that we can make better analysis for you.
More Related Articles You May Like
Share Your Thoughts With Us