Why iTunes Home Sharing Not Working & How to Fix It
Summary
Why my iTunes Home Sharing doesn't work after I setting it up? How can I access my shared iTunes library over home network from another computer or iPhone, iPad.
Take a tour of this awarded software so that you can make use of it after reading this How to Fix iTunes Home Sharing Not Working tutorial.
Some users reported that after setting up iTunes Home Sharing with the same iTunes account on two computers, the Home Sharing disappeared and never be seen again. If you have the similar problem or just cannot get your iTunes Home Sharing worked, then please consult this guide for a solution.
Don't Miss: How to Transfer Music from iPhone to iTunes
Quick Tip: After enabling Home Sharing and clicking Done, Home Sharing is no longer visible until it detects another computer with Home Sharing enabled.
Part 1: Check if Bonjour Service is running
Since Bonjour provides a general method to discover services on a local area network, so the first thing you need to check is if it is running on your computer. To do so: Open Windows Task Manager (also keep iTunes running)> Services > Check if Bonjour Service is running: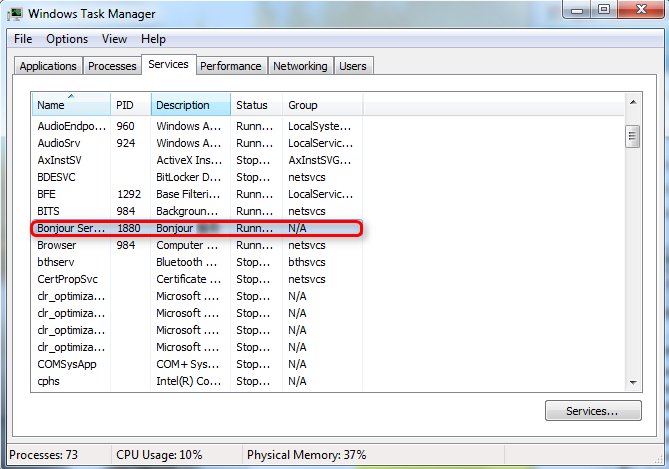 To enable the Bonjour service in Windows 7, you can uninstall and reinstall iTunes or follow: Right-click Computer and select Manage > Select Services and Applications > Services > Double-click the Bonjour service, set the Startup type to Automatic > Apply > Reopen iTunes to see if problem solved.
Part 2: Check the Network
A general rule to fix the network problem is to restart your home network router. If the problem remains, you can try switch IP4 to IP6. To do so: Open Control Panel > Choose Network and Internet > Select the View network status and tasks under the Network and Sharing Center section > Choose your active network connection > Click the Properties button > If Internet Protocol Version 6 (TCP/IPv6) is checked, uncheck it, then click OK > Restart iTunes and check if iTunes Home Sharing will work.
Other iTunes Home Sharing Quick Tips
1. iTunes Home Sharing only transfers the media file and ID3 tag information. It does not transfer iTunes metadata, including ratings, play history, and comments. If you want to transfer and share your music also with ratings and play counts, AnyTrans is the way to go.
2. Again, as iTunes Home Sharing is designed to be an easy way to either copy items from your iTunes library between your Macs or PCs in your home, or to share items from your iTunes library with your iPhone, iPad, iPod touch, you can use it to move your music to a new computer.
More Related Articles You May Like
Share Your Thoughts With Us