[Last Update: Dec. 12, 2017]
There are so many iOS data transfer tools available on market and they are making iOS data management easier than ever. AnyTrans, as one of the best iOS management tools, wins much admiration. However, as is known to all, you will need an AnyTrans license code to be able to use it, which is not for free. For majority of people, money does not matter that much, the most important questions are "what can AnyTrans do for me?" and "is AnyTrans really worth the price?"
Here in this post, we will show you what can AnyTrans do for you and how much AnyTrans costs. Do keep reading and know whether AnyTrans is worth the price.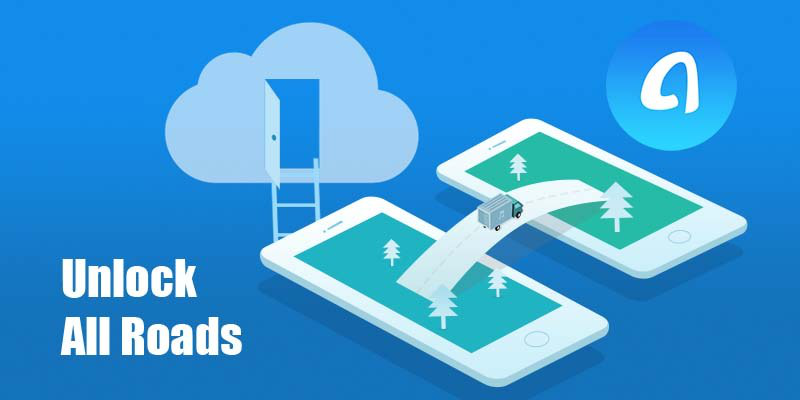 Part 1. AnyTrans Main Features
Through many years of hard work, we have made AnyTrans an excellent iOS data transfer tool with 7 main features. Let's get to know them one by one.
1 > Backup iDevice Data
As a data manager, backing up iOS data feature is crucial as backups may be the last thing you can turn to get back data when data loss occurs. Here is how AnyTrans can help you backup iDevice data.
Selectively Backup iPhone iPad iPod touch to Computer: With iTunes, you can create an iTunes backup on computer. However, after doing this over again and again, you might find that computer run out of storage. That is because iTunes can only create a full backup of your iOS device. With AnyTrans, this is no longer the case. You can selectively backup data to computer as printable and viewable format, besides, selecting an export path is also supported.
Create iTunes Backups: If you insist on creating iTunes backups, then you will need AnyTrans even more. iTunes can create backups pretty quick, but AnyTrans can help you create iTunes backups even quicker. Moreover, iTunes may sometimes go wrong and doesn't allow you to create iTunes backups, under this circumstance, AnyTrans is surely the best iTunes alternative tool to create an iTunes backup.
Want to create iTunes backups regularly without any operation? Air Backup feature is exactly what you need. This feature can help you backup iPhone iPad iPod touch once your iDevice and computer are connected under the same Wi-Fi at the time you selected.
Backup Media Files to iTunes Library: As is known to all, we can only transfer purchased songs from iDevice to iPhone. We should have to the right to transfer media files to iTunes library, right? Own AnyTrans, you can transfer songs, no matter purchased or non-purchased to iTunes library.

2 > Extract Data from iTunes/iCloud Backup

When data loss occurs, we might all turn to iTunes/iCloud backup and restore iDevice from them. Frankly, you might get back lost data, but the price could be further data loss.

Why not try to extract data from iTunes/iCloud backup with AnyTrans? AnyTrans can help you scan contents in iTunes/iCloud backup and download them to computer. If you need these contents on your iDevice, you can even later transfer them from computer to iDevice.

3 > Android/iDevice to iDevice Transfer

With the launch of iPhone 8/X, many of you may have changed from Android or older iPhone to new iPhone. It is easy to buy a new iPhone, but it is hard to transfer data from old Android phone or old iPhone to new iPhone.

We dedicate to provide users better ways to switch to new iPhone. As for switching from old iPhone to new iPhone, AnyTrans can help you transfer data from old iPhone to new iPhone directly. According to statistics, more than 22 types of data are supported by AnyTrans, thus you don't have to worry about that any data would be left behind.

When it comes to change from Android phone to new iPhone, Move to iOS, developed by Apple Inc., could help you transfer data from old Android phone to new iPhone. However, according to many users feedback, Move to iOS transfers data too slowly, and only limited types of iOS data are supported. The best Move to iOS alternative - AnyTrans can help you move as much as it can to new iPhone with much faster speed. Please note that this is a free function of AnyTrans.

4 > Add Content to iDevice from Computer, iTunes, iCloud, External Hard Drive

We have talked about backing up iOS data, now let's talk about transferring data to iDevice from somewhere else, like computer, iTunes, iCloud or external hard drive.

No matter it is contacts in VCF, or photos, purchased or non-purchased music you want to add from computer, iTunes, iCloud and external hard drive, AnyTrans can help you transfer them to iDevice with super fast speed.

5 > iCloud Content Management

iCloud can upload your contents on iPhone iPad iPod touch and automatically transfer these contents to all devices logged in the same iCloud account. Contents in iCloud would be a great mass if you left them alone.

After logging in your iCloud account on AnyTrans, you can freely view, delete, download iCloud contents. Adding contents from computer to iCloud is also supported. More exciting thing is that you can even transfer contents from one iCloud account to another iCloud account.

6 > Media Download

Besides being an iOS data manager, AnyTrans is also a nice video downloader. Currently, AnyTrans supports downloading videos from 900+ video websites of any formats, which means, basically, you can download all videos you like. It is also quite easy to download videos. Paste URL to the blank square, and then click Download, you can have your favorite videos on computer or iOS devices.

AnyTrans Overview

Part 2. How Much Does AnyTrans Cost

"How much does AnyTrans cost?" Frankly, it is an easy question but need careful explanation. To cater more people's needs, we have three different types of activation code for AnyTrans, they are Single License, Family License and Business License. Check the tabs below and see how much AnyTrans costs and how many computers can share one license code.

Type
Single License
Family License
Business License
Licensed on
1 PC/Mac
5 PCs/Macs
10 PCs/Macs
30 to Unlimited PCs/Macs
Price
$39.99
$59.99
$99
$199-$499
Buy Now >
Buy Now >
Buy Now >
Contact Us >

Part 3. Does AnyTrans Cost Too Much

To make a fair judgment, AnyTrans is not costly at all and AnyTrans is probably the smartest choice you can make. Here are the reasons.

1 > The Most Powerful Features

As mentioned above, AnyTrans supports managing 22+ types of data, like music, messages, contacts, photos and so on. With it, you can transfer your data among iDevice, computer, iTunes and iCloud freely. These have already made AnyTrans one of the best iOS data managers on market, but that is not all. We are still improving the performance of AnyTrans and bringing more new features to all users and we are determined to make AnyTrans the No.1.

2 > Best Customer Service

We can offer you 27/7/365 Customer Service. Whenever you encounter any problems with AnyTrans, you can always contacts to our customer service, they will be glad to solve your problems.

3 > 60-Day 100% Money Back Guarantee

If AnyTrans fails to manage your iOS data, you can apply for a refund within 60 days starting from the purchase day, which could be the longest you can get for iOS data transfer tools.

4 > The Best Offer

Now, get AnyTrans and we can also offer you an $30 E-book for free. This E-Book ollects 100+ iPhone iPad related tips & tricks to turn you from iPhone/iPad lover to master. Why not click the Purchase button and get AnyTrans now?

The Bottom Line

That's all for how much does AnyTrans cost. As you can see, even though AnyTrans is a paid software, but you certainly deserve to own it. If you like AnyTrans, please share it with others, we will appreciate that. By the way, don't hesitate to leave comments or email our customer service if you are having any questions, we will reply as quick as possible.