AnyTrans – Best iOS Data Transfer
This easy-to-use iOS data transfer tool can help you manage and transfer almost all kinds of iOS data in an easy & fast way. Download it to have a try.

Free Download
It's very excited that Apple made iOS 11 available to public now. You know that iOS 11 is coming with many new features. As Apple says, it will make iPhone better than before, make iPad more capable than ever, and make your iPhone and iPad become the most powerful, personal, and intelligent devices they've ever been. If you haven't upgrade to iOS 11, read on, here is the handy guide on how to update to iOS 11.
Well, before talking about how to upgrade to iOS 11, please be notice that updating operation may break your device or lead to data lose. So, before you start, we highly suggest you make a backup of your iPhone or iPad. One more thing, iOS update always need much space, hence you need to free up more space for updating. You can install the iOS 11 on your iPhone/iPad/iPod touch directly, or with iTunes. Now, let's follow steps below to upgrade to the newest iOS version!
Also Read: The Most Conmon iOS 11 Problems and Solutions >
1. How to Install iOS 11 on iPhone/iPad/iPod touch Over the Air
After the release of iOS 11, you will receive a notification about it on the screen of your iOS device. You can follow the pop-up or check it by yourself, just follow the steps below to download and install iOS 11.
Step 1. Connect your device to a power source to avoid battery drain during the update process.
Step 2. Connect your iOS device to a local & stable Wi-Fi network, otherwise you'll charge for downloading the update over your cellular connection.
Step 3. On your iPhone/iPad/iPod touch, go to Settings and then choose General.
Step 4. Tap on "Software Update" to check the update, and choose Download and Install if the update is available.
Step 5. Follow the prompts: Enter Passcode > Tap on Agree on Terms and Conditions > Tap on Agree to confirm.
Step 6. Tap on "Install Now" to start the update process. Then wait patiently for downloading and installing of iOS 11.
Note: During the process, some steps may take some time. Hence you should wait for it patiently.
2. How to Install iOS 11 on iPhone/iPad/iPod touch via iTunes
You can also download and install iOS 11 on your iOS device via iTunes if you don't want to or can't update over the air. Below are the detailed steps of how to download iOS 11 on iTunes:
Step 1. Download and install the latest version of iTunes on your PC/ Mac computer.
Step 2. Open iTunes and connect your iPhone, iPad or iPod touch to computer via USB cable.
Step 3. Click on Device tab, and then choose Summary.
Step 4. Click on Check for Update > Choose Download and Update > Select Agree to confirm.
Step 5. Enter your Passcode on iPhone, iPad or iPod touch.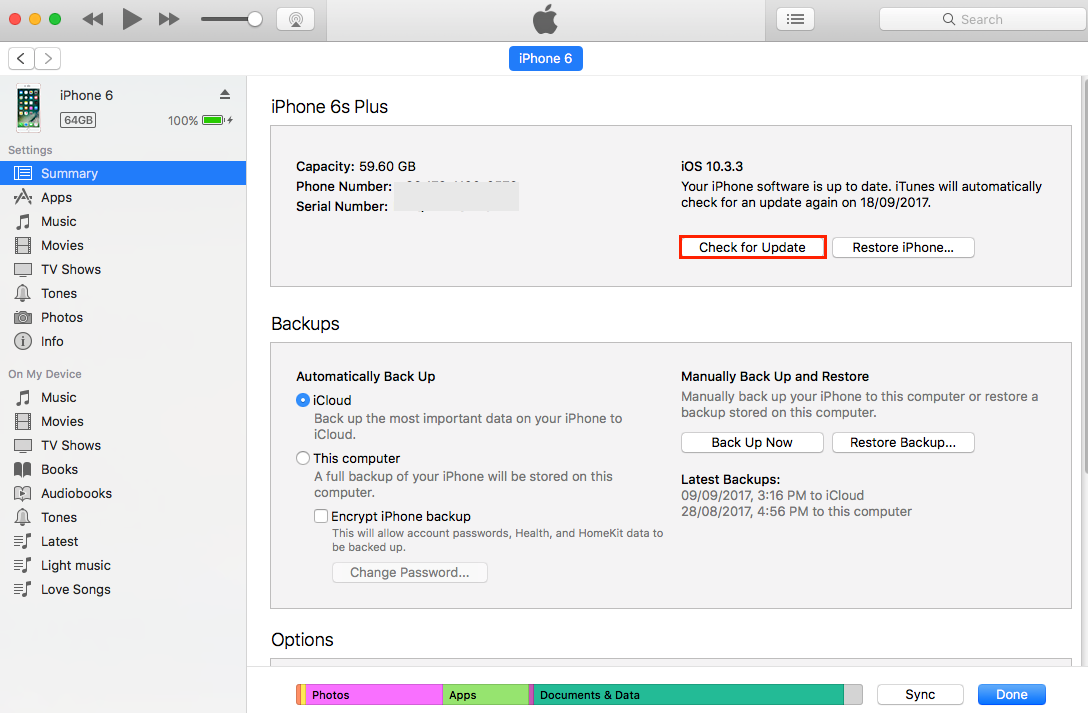 Install iOS 11 on iDevice via iTunes
Note: After rebooting your device, it will be running the new iOS 11. You can get started with iOS 11 after finishing the setup steps.
Bonus Tip: How to Manage and Transfer iOS Data Easily
After talking about how to update to iOS 11, then we come to this part. In terms of managing or transferring iOS data, what come to our mind first it using iTunes. However, using iTunes has many limits, like you cannot use iTunes to transfer data from iPhone to computer directly, can't transfer non-purchased items, can't sync data without data lose and so on. So, in this part, we recommend you an awarded iTunes alternative - AnyTrans, which is dedicate to help Apple users manage and transfer kinds of iOS data in a smart way.
AnyTrans is compatible with Mac & PC computer, and supports all models of iPhone, iPad and iPod. It supports transferring all kinds of iOS data including photos, music, videos, notes, calendars, contacts, apps, reminders, messages, etc. Whatever you want to transfer, it can do it for you. What's more, you can use it to transfer data in multi-direction, like between iTunes and computer, from device to iCloud, between iCloud and computer, and even between two iDevices and two iCloud accounts.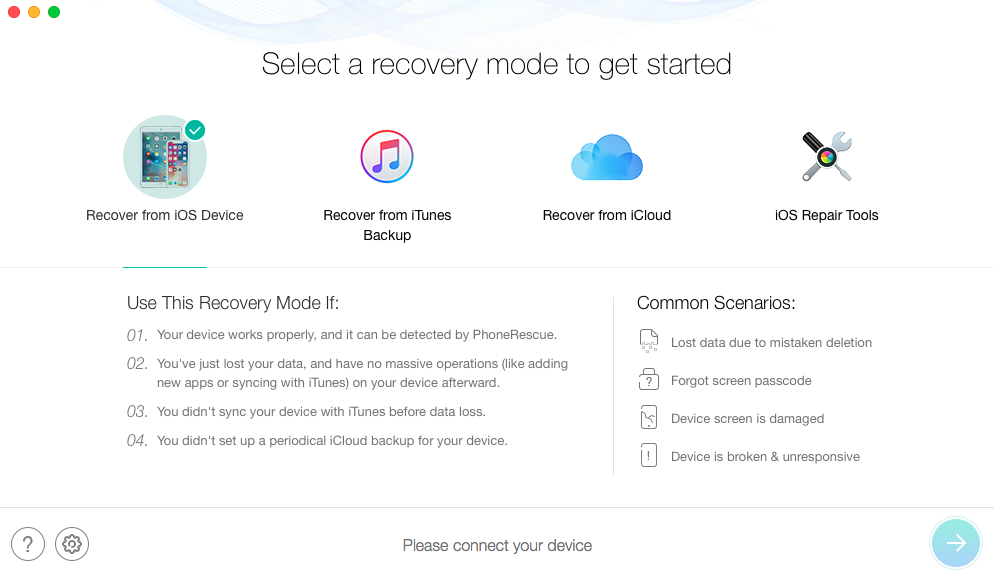 AnyTrans on Mac Overview

The Bottom Line
That's all for how to update to iOS 11, we have to remind you again, make a backup for your device before iOS 11 beta downloading. And as it's still in beta, it may not provide you a great experience, so, you have to take a risk of facing common problems like battery drain, data lose and freezing and so on. So, be ready to encounter them bravely! If in case you can downgrade from iOS 11 to iOS 10. By the way, if you want to mange and transfer your iPhone/iPad data in an easier way, you can download AnyTrans to give it a try.