How to Access and Get Contacts from iCloud
Summary
How to access my contacts on iCloud? Follow the guide to find contacts in iCloud and to know how to get contacts from iCloud in 2 ways.
The easy-to-use tool can help you find and get contacts in iCloud with ease. Get it and follow the tutorial to have a try.
Read this guide in other languages: Français
Although we can restore our iPhone from iCloud to get back the lost contacts, it's not recommended to do so because all your previous data will be replaced with the backup. At this moment, we prefer to selectively extract contacts from iCloud rather than restoring. The best way to go is accessing your iCloud to view the contacts you need.
Must Read: How to Backup Contacts on iPhone 7/7 Plus >
In this post we will offer you 2 ways to access and get contacts from iCloud: via web browser or via one iOS data management tool named AnyTrans for iOS.
Part 1. How to View and Get Contacts from iCloud Online
Step 1. Open iCloud.com and input your iCloud account and password on the homepage. After successfully login, click the "Contacts" icon on the main page and go to the contacts page.
Step 2. You can check all of your contacts and manage them by creating or editing groups/contact. Of course, you can even export contacts (VCards) to your Mac or Windows computer.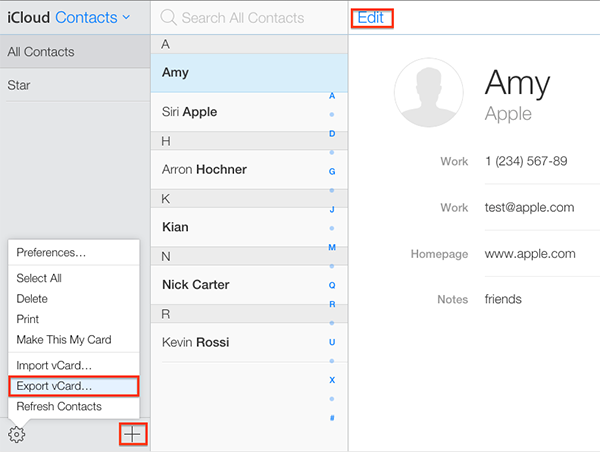 How to Access iCloud Contacts via iCloud Website – Step 2
Note: iCloud website make you be able to view and manage parts of content on your iCloud for free, such as Mail, Contacts, Notes and Calendar. But now you can't reach messages, videos and some other info via this site.
Part 2. How to Access and Get Contacts from iCloud with AnyTrans for iOS
AnyTrans for iOS is an all-in-one file management solution to transfer/backup your iPhone, iPad and iPod touch content, and also lets you access and manage iCloud and iTunes backup files.
Give you chance to access and view iCloud contacts.
Enable you to selectively get contacts from iCloud to computer in readable format.
Besides contacts, you can also view and get photos, messages, notes, reminders, etc. on iCloud.
Every iCloud login within AnyTrans for iOS is protected. We have no way to decrypt it.
Now get AnyTrans for iOS installed on Mac or PC and follow the instructions here.
Step 1. Open AnyTrans for iOS. Click on the iCloud button and input your Apple ID and password.
Step 2. Go to the category management page. Choose Contacts.
Step 3. Then you can check all the iCloud contacts. If you want to download the contacts to computer, please select the contacts you need and then click To Computer button.
Note: You can click the button looks like gear to set the output format of iCloud contacts. Not only that, you can also edit, delete the iCloud contacts and even transfer the contacts to another iCloud account directly.
The Bottom Line
Except accessing contacts from iCloud, AnyTrans for iOS can also be used to extract photos, videos, messages and other iOS data from iCloud and iTunes backup. Why Not Download and Try It Now? If this guide is useful, please kindly share it with your family and friends.
More Related Articles You May Like
Share Your Thoughts With Us