How Long Does iCloud Backup Take
Wondering how long does it take to backup an iPhone to iCloud? In this guide, we will explain you the reasons why is iCloud backup taking so long and offer you an alternative way to backup iPhone.
By
iMobie
|
Posted on: Jan. 31, 2018,
Last Updated: Aug. 12, 2019
Question: "How long does iCloud backup take? Mine is taking forever and I just wanted to know how long did it take for you?"
— A User from Yahoo Answers
iTunes allows you to backup your iPhone to computer and keeps the backup files locally. Instead, iCloud backs up your iPhone to the cloud, which happens in the background with Wi-Fi connection. However, backing up via iCloud can be painful especially for the first time users, and many users cannot complete the backup for some unknown reasons. Here, we will explain to you how long it takes to backup iPhone to iCloud and why sometimes it takes so long to complete the backup.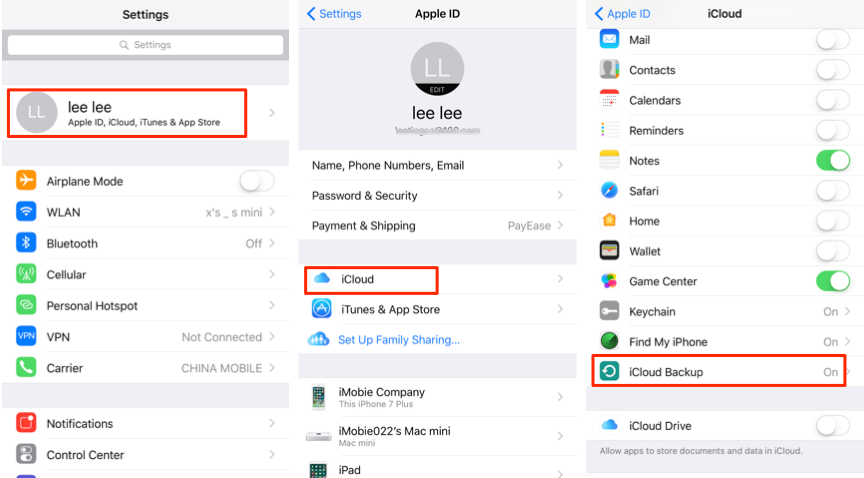 How Long will it Take when Backing up with iCloud
How Long Does iCloud Backup Take
There are no concrete answers about exactly how long does it take to backup your iPhone to iCloud. Firstly, you need to know that iCloud automatically backs up the following items:
Photos and videos in your Camera Roll
Device settings
App data
Home screen and app organization
iMessage, text (SMS), and MMS messages
Ringtones
Visual Voicemail
The time it takes to back up for the first time depends on the file size being backed up (you can find this from your back up settings) and how fast your Wi-Fi connection is. For example, if the upload speed is around 1 Mbps so 1 GB may take around 2 hrs to upload.
Why is the iCloud Backup Taking So Long
As we mentioned, the backup time of iCloud mainly depends on two reasons: the backup size and the Wi-Fi speed. So if you have a fairly full device, say 8GB of stuff, then the first backup will be very long. And if the Internet connection is unstable or slow, the time to back up your iPhone to iCloud will be relatively slow.

iCloud Backup Takes So Long – An Easier yet Quicker Way to Backup iPhone
Since iCloud and iTunes consume both time and labor, many iPhone users are seeking for other easier and quicker solution to complete the job. And AnyTrans for iOS, a professional iPhone manager, has been highly recommended by lots of iOS users. Below are its features on backing up iPhone/iPad/iPod touch.
One-click backup. Just 1 click to backup your iPhone to computer in readable formats, including photos, videos, music, ringtones, contacts, messages, notes, etc.
Selective backup. You can choose to back up only part of the content to your computer like few pictures or selected notes, giving you more control.
Air Backup. It backs up iPhone for you automatically, wirelessly and silently as scheduled – daily, weekly, monthly… You don't need to do anything.
Incremental Backup. It backs up for only changed or added data since the previous backup, it largely saves the backup time and disk space.
Restore Backup to iPhone. Unlike restoring from iCloud or iTunes, there no need to erase anything on your iPhone. No full restore needs.
Now, Free Download AnyTrans for iOS on your computer, and then follow the steps below to backup your iPhone easily.
Step 1. Launch AnyTrans > Connect your iPhone to the computer via USB cable > Choose "Device Manager" > Click on "Content to Mac/PC" button to continue.
Step 2. Check the file categories you want to backup > Choose the export path > Click the Right Arrow button to back up the selected files to your computer.
If you just want to back up some important files on your iPhone, but not all files, refer to this guide (Method 2 of Part 1) to get detailed steps: How to Backup iPhone Selectively >.
Creating backups from time to time is vital yet painful. If you are tired of doing the task, just set Air Backup feature of AnyTrans to backup your iPhone automatically, wirelessly and securely at your preferred frequency (daily, weekly, monthly, etc.). To get more details, move to this guide: How to Backup iPhone Automatically >
Also Read: How to View iCloud Backup >
Through our survey, over 79% iPhone users rely on iPhone / iTunes / iCloud to store their important personal data. In order to help you extract useful photos, messages, notes and more from your backup, we composed this 2018 iPhone Backup Extractor Software Review for your reference.
iOS 12.2 is available now, and if you want to get the new iOS, don't forget to backup your iPhone via iCloud, iTunes or some iTunes alternative tool. To ensure you a worry-free update, please check out the potential iOS 12 update problems you may meet with quick solutions.
The Bottom Line
If you want to view the backup files on iCloud, please refer to two ways to access iCloud backup. If you have any ideas on why it takes so long to backup iPhone to iCloud, please share it with us in the comment section. At the same time, don't forget to have a free trial on AnyTrans.