How to Make iCloud Backup Faster with Ease
Summary
Why is my iCloud backup taking so long? How to make iCloud backup go faster? Read to learn some potential solutions.
AnyTrans is an alternative to iCloud that helps backup photos, music, contacts, messages, notes and more from iPhone/iPad to computer. Now download its free trial to have a try.
iOS 10 is getting closer and it is likely to come out next month. If you plan to update iOS 10 on your iPhone/iPad, it is very necessary to backup your device before upgrade. If you choose to back up your iDevice via iCloud service, you may find that iCloud takes so long to finish the backup.
Why? Mostly, that's because iCloud is a Wi-Fi network based workaround to backup your iPhone iPad, so it can be very slow if you have a huge backup size. Now we will show you five solutions that may help you speed up slow iCloud backup.
Don't Miss: How to Bypass iCloud Activation Lock on iPhone/iPad via 2 Ways >
How to Speed up iCloud Backup in 5 Potential Ways
How to increase iCloud backup speed? Backup size and network speed are two main factors that affect the iCloud backup speed. With following solutions, you can speed up iCloud backup easily.
Solution 1. Clean up Your iPhone/iPad/iPod touch
Clean out useless or unneeded data on your iDevice before backing up to iCloud. Reclaim more space on iPhone/iPad/iPod touch can make the backup faster and smoother. Another option is to clear junk files like Safari history, cookies, caches and more with PhoneClean - the first & best iOS cleaning tool for iPhone, iPad, iPod touch.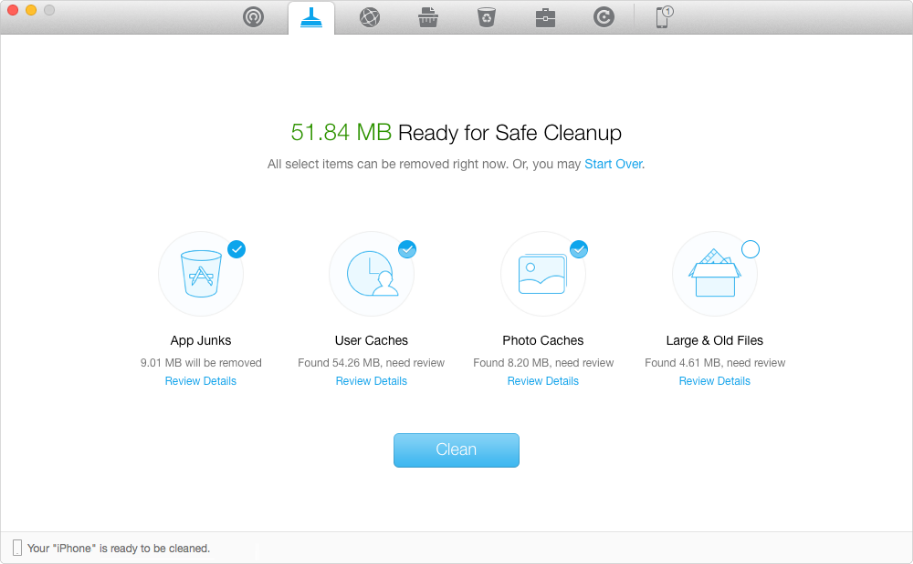 Speed up iCloud Backup – Cleaning iDevice with PhoneClean
Also Read: How to View iCloud Backup Photos >
Solution 2. Disable Large Files Backup
Select those apps, photos or files that takes up a lot of space, disable them.
If you are an iTunes user, you can also back up those large files with iTunes. This article may help you a lot, How to Backup & Restore iPhone iPad with iTunes.
Solution 3. Turn off Useless Backup
Turn off the backup for those non-essential data types and select only what you need to back up. About how to turn off unnecessary Apps, you can follow the steps below:
On your iPhone iPad, go to Settings App > General > Storage & iCloud Usage > Manage Storage in iCloud column > Select the device you want to manage in BACKUPS column (if you are using the same Apple ID on more than one iDevice) > CHOOSE DATA TO BACK UP column > Tap on "Show All Apps" > Select the unnecessary Apps and tap on it to turn if off > Tap on Turn Off & Delete.
Solution 4: Back Up Photos and Videos to Computer Instead of iCloud
For most of iPhone iPad users, the photos and videos occupy much storage on their iDevice. Just for me, I am working with a 16 GB iPhone 6, but the Photos & Camera takes about 2GB storage. If I make an iCloud backup, without doubt the Photos & Camera will eat up almost half of free iCloud storage, and it also takes me a long time to make a whole iCloud backup. I believe my situation is not rare, and may happen on most iDevice users.
If you are stuck on some problem, like iCloud storage is not enough or iCloud backup takes forever, and you all have one thing in common – Photos & Camera takes much space on your iPhone, at this moment you can consider backing up your photos to computer instead of iCloud. Next, we will show you how to make it.
Step 1: Transfer all photos to PC/Windows computer with AnyTrans.
You can back up iPhone iPad photos to computer with many Windows or Mac built-in Applications, but all of them only support transferring Camera Roll photos. If you want to back up some iCloud photos or synced photos, they are not supported. That's why you need AnyTrans, which allows you export all iPhone iPad photos to computer for backup, and add them back to iDevice when necessary.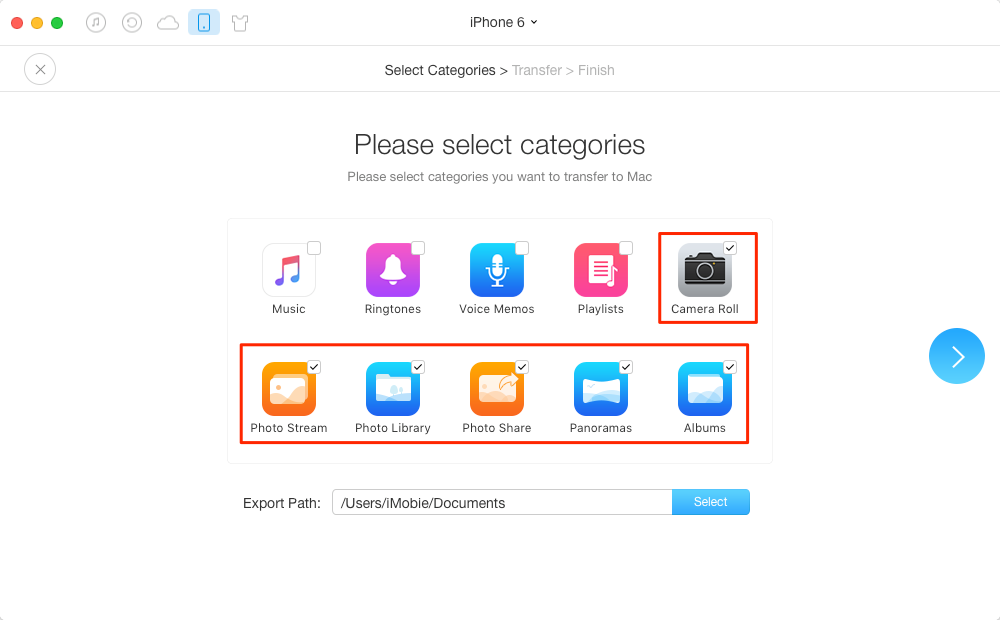 Speed Up iCloud Backup Speed - Back Up Photos to Computer
Step 2: Delete all the photos you backed up from your iPhone iPad.
After backing up all the photos to computer for backup, you can delete them from iPhone iPad to make the iCloud backup smaller, and speed up the iCloud backup speed. About how to deleted photos from iPhone iPad, you can follow this guide to make it.
Also Read: How to Backup iPhone in 3 Ways >
Solution 5. Using a Reliable Internet Connection
Using a reliable, fast Internet connection as possible when backing up your iOS devices. And close other working procedures or applications using the Internet to increase bandwidth availability on your iOS devices. Besides, you can contact your ISP if you have slow Internet.
If you find your iPhone iPad needs a long time to load a webpage, download an App when connecting to Wi-Fi, this means your Wi-Fi network is slow. Without doubt that this will make iCloud backup slow. You can fix this problem by following this guide: How to Fix: iPhone iPad Wi-Fi Slow >
Furthermore, here's a recommended method for you. Connect your device to Wi-Fi, and charge it before you go to bed at night, it will back up your data silently. And when you wake up in the next morning, it already has your backup files.
You May Also Like: What Does iCloud Back Up >
Bonus Tip: How to Extract Data from iCloud Backup without Restoring iPhone iPad
Making up backup with iCloud or restoring iDevice with it any time anywhere, it sounds great, you may find a problem – you never can extract or view what you have backed up, and recover a deleted photo or a message unless you plan to restore your iDevice with the whole backup files.
Therefore, here we recommend you an iPhone iPad backup extractor - PhoneRescue, which basically is an powerful iOS and Android data rescuing application. PhoneRescue - iOS data recovery allows you to extract what you like from iCloud backup without restoring your iDevice. Like Photos, Text Messages, iMessages, Videos, Call History, Contacts, Notes, and other iOS contents also can be extracted from iCloud backup with PhoneRescue. And the extracted data can be restored to iDevice directly, or you also can choose to restore them to computer.
iCloud Backup Extractor PhoneRescue Overview
90% of The People Are Reading
Share Your Thoughts With Us