Summary
This article is about how to set up and activate your new iPhone 7 and iPhone 7 Plus. If you are a new iPhone user, this would be quite helpful.

by Joy Follow @iMobie_Inc
AnyTrans – Smart iPhone 7 Data Transfer
Download AnyTrans free trial on your PC or Mac so that you can move data from any iPhone to your new iPhone 7 or iPhone 7 Plus without tedious backup and restore.

Free Download
As an Apple lover, you must have known the latest iPhone 8 and iPhone 8 Plus already hit the store, and the most expensive iPhone ever will also be available in November. For most Apple fans, iPhone 8 and iPhone Plus doesn't have too many kill features in comparison to iPhone X, however, iPhone X is the most expensive iPhone ever, and starts from $999. If you have a limited budget, iPhone 7 and iPhone 7 Plus is also a nice choice.
Once you get a new iPhone 7 or iPhone 7 Plus, there are some essential things you need to do: setting it up and activate it right away.
For Apple lovers, the newest Apple product is impossible to be omitted on their wish list. And among various iOS devices, a new iPhone 7/7 Plus may be the first choice, cause it comes alongside with iOS 10 that brings a set of new features, which are not owned by its predecessors like the new jet black model and the dual-camera for iPhone 7 Plus with Portrait Mode.
We are assuming that you are updating from an old iPhone, and during the setup process, you are allowed to transfer data to new iPhone 7 from an old iPhone with iTunes or iCloud. If you are an Android user and this is your first iPhone, please check out How to Move Data to iPhone 7 from Android Phone.
Now keep reading to learn how to set up iPhone 7/7 Plus and make sure everything is configured and working just exactly the way you want.

Before we start, what is worth mentioning that you should backup your old iPhone via iTunes or iCloud in advance, so that you can directly restore from backup when follow the steps to set up iPhone 7.
You May Also Like:
How to Transfer Photos from iPhone to iPhone 7 >>
How to Transfer Contacts to New iPhone 7 >>
How to Transfer Ringtones from Old iPhone to iPhone 7 >>
How to Set Up New iPhone 7 with Detailed Steps
1. Turn on your brand-new iPhone 7, or iPhone 7 Plus. You will see the "Hello" screen in many languages. Slide to right to continue.
2. Choose the language you want and tap your country or region.
3. Choose a Wi-Fi network and make sure your iPhone 7 is connected with Wi-Fi. If you're setting up your iPhone 7 with cellular connection, tap on Use Cellular Connection.
4. Enable Location Services or disable Location Services.

If you have already set up your iPhone 7/7 Plus and want to go back to the App & Data window, you can: Settings > General > Reset > then tap "Erase all content and settings."
5. From the Touch ID screen, you can set your fingerprint.
6. Then create a Passcode: you can set up six or four digit passcode.
7. From the Apps & Data screen, you can transfer data to your new iPhone 7:
Restore from iCloud Backup
Restore from iTunes Backup
Set Up as New iPhone
Move Data from Android
8. Sign in with Apple ID and password (you can also skip this step). After sign in with your iCloud account, you might need to set up iCloud Drive, Apple Pay, and iCloud Keychain.

9. From the Set Up Siri screen, you can set up Siri by pressing and holding the home button. Or you can tap Turn on Siri later to skip this step.
10. Choose Send or Don't Send Diagnostic information to Apple.
11. Choose between two display resolutions: Standard or Zoomed. Then tap Next to continue.
After activating your new iPhone 7 or iPhone 7 Plus, and you also need to repair your Apple Watch with your new iPhone again if you already own one.
How to Manage Your iOS Files on iPhone 7/7 Plus without iTunes
It's recommended to get a new way to transfer, backup and manage files on your iPhone 7/7 Plus with more flexibility – with AnyTrans. It is the best iTunes alternative to manage iOS files including music, ringtones, videos, photos, contacts, notes, messages, and more.
Put music onto iPhone 7 without wiping, and transfer songs from iPhone back to iTunes or computer, and even to a flash drive.
Copy data from one iPhone to another, covering messages, notes, contacts, photos, music, etc.
Extract your iTunes library and allows you to transfer files from iTunes library to iPhone or to computer.
Phone Clone and Phone Merge features enables you to move data from old iPhone to new iPhone 7 in one click.
Download AnyTrans Free Trial Here >>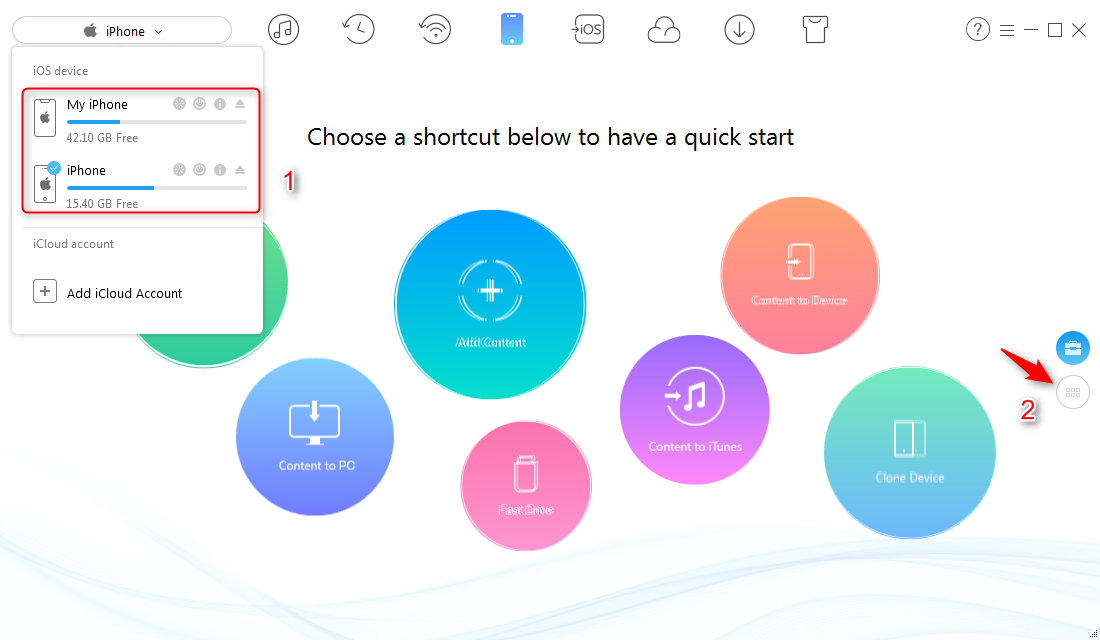 After getting a fire-new iPhone 7 you may want to learn some useful tips to better maintain your new iPhone. And we also prepare you some basic tips to save your iPhone 7 battery and free up more space on it.
Meet some annoying problems with your iPhone 7 that running iOS 10, like Wi-Fi problems, iMessage issues, or Bluetooth not working? Please check out the most common iOS 10 updating problems and solutions >