How to Fix iTunes Error 2009 Easily
Have you ever encountered iTunes error 2009 when you try to update or restore your iOS device? Read this post to find out why it happens and how to fix it.

Joy Taylor
Last Updated: Apr. 14, 2020
iTunes Error
For iOS users, when you are trying to update or restore your iOS device, you may face an unknown error – iTunes error 2009. Once it happens, it will prevent you from restoring and updating, till this error is fixed. If you're annoying about this error and have no idea of what to do, you're in the right place. This post sums up several practical solutions to help you out.
Apple's support says this error may be the result of USB connection failure, so, it recommend you to check your USB connection at first. Actually, the reasons are variety different. For instance, corrupt download or in complete installation of iTunes, virus or malware infection, program maliciously or mistakenly deleted iTunes related files and so on. Here are 5 solutions you can have a try to resolve your iTunes error 2009.
Also Read: How to Fix Invalid Response from iPhone 6/7 >
1. Check your USB connection
Just as Apple recommends you at first, you should check your USB connection. Use the USB cable that came with your device or try a different one. And, switch to a different USB port on your computer or just try another different computer.
2. Restart your computer
Sometimes, restarting your Mac or PC computer, the error will be fixed easily, just do it to see if it works for you.
3. Re-install iTunes
Make sure you are running the latest version of iTunes. Or restore your iTunes by removing it and reinstall. You can click here to download the latest version of iTunes: https://www.apple.com/itunes/download/, re-installing iTunes may resolve this problem effortlessly.
4. Update your antivirus software
Make sure that your antivirus software is updated or quit it temporarily; this solution may help you out with ease.
5. Disable iTunes helper
To do this, Mac users can make it with steps: System Preferences > Account > Select Login Items > Find iTunes Helper in the items list > Disable it.
PC users can make it with steps: Start > Run and type MsConsfig > Press Enter > Find 'iTunes Helper' and disable it.
6. Get rid of iTunes error 2009 with PhoneRescue
If you try all the methods mentioned above but the error still remains, then you can have a try on PhoneRescue to fix iTunes error 2009 and return your device to normal.
PhoneRescue is a professional data recovery tool dedicates to help Android and iOS users recover deleted or lost data, meanwhile, PhoneRescue – iOS data recovery also be used to fix iTunes errors by restoring iOS system, certainly, including iTunes error 2009. It's a safe way for restoring iOS system and won't cause any data loss, after that, your device would be equipped with the newest version of iOS system and the iTunes error 2009 will be fixed as well. Now, let's see how to use to PhoneRescue to restore iOS system.
Step 1. Download PhoneRescue – iOS data recovery (choose Download for iOS) and install it on your computer. Connect your iPhone to computer.
Step 2. Select iOS Repair Tools, and click the arrow button to continue.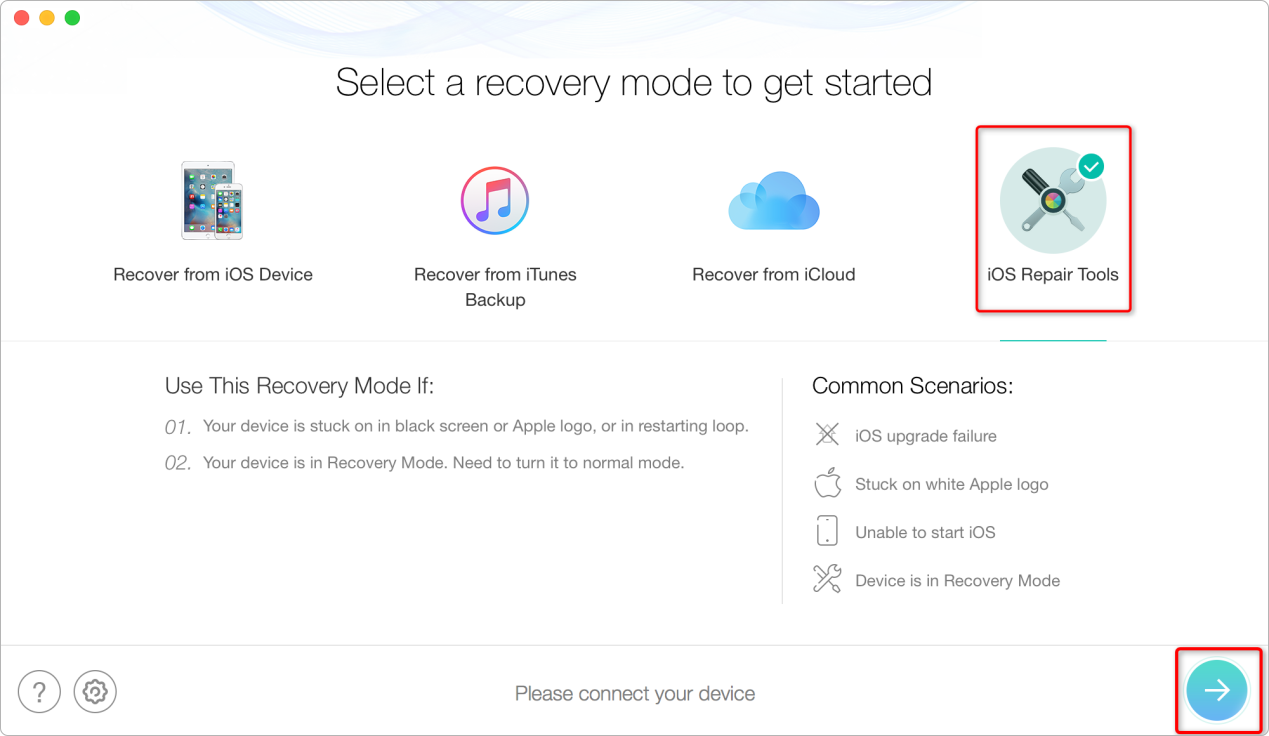 How to Fix iTunes Error 2009 by Restoring iOS System – Step 2
Pay attention that there are two repair modes you can choose; they are Standard Mode and Advanced Mode respectively. Only Advanced Mode could restore your iOS system without data loss. The other will wipe all data on your device.
Step 3. Select Advanced Mode.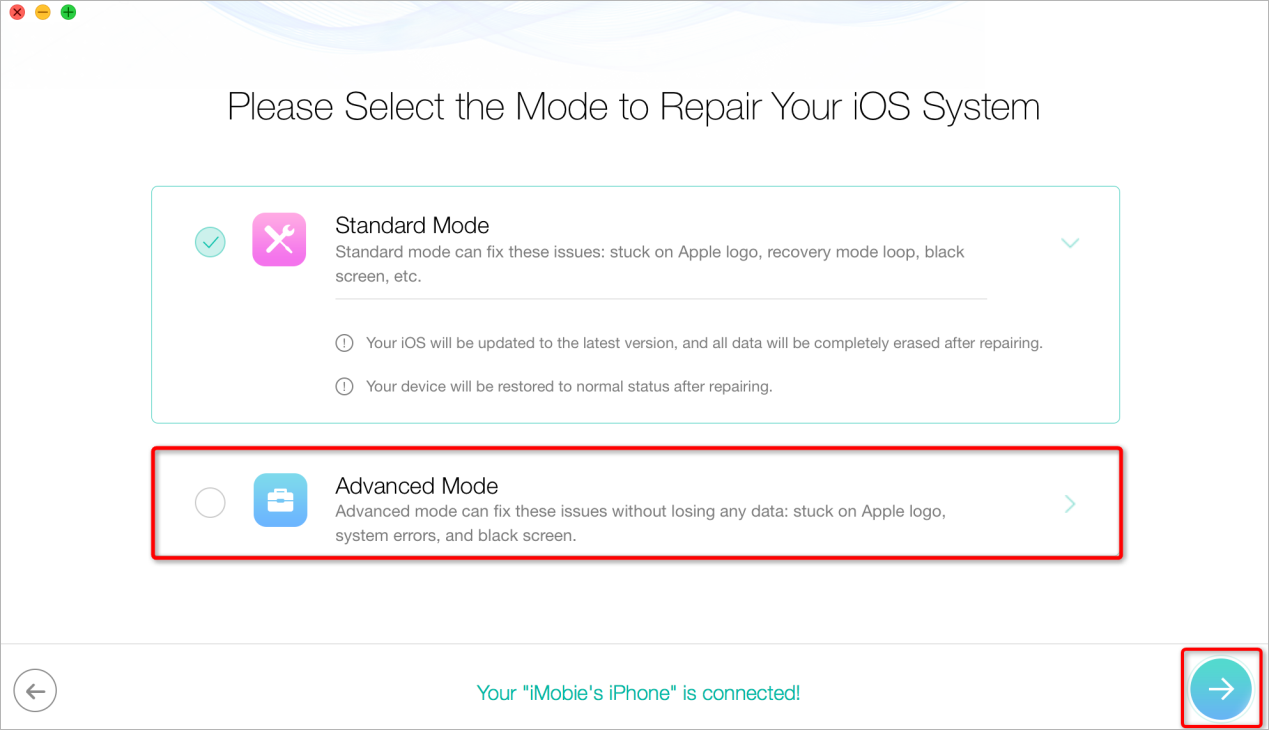 How to Fix iTunes Error 2009 by Restoring iOS System – Step 3
Step 4. Follow the 3-step instruction in the window to enter "Recovery" mode, then confirm your device info and select Download, after downloading, PhoneRescue – iOS data recovery will repair your device to normal automatically, and iTunes error 2009 will be solved.
The Bottom Line
Hope that these methods introduced above can help you fix iTunes error 2009 on your device. If problem remains then contacting an Apple authorized service center or getting in touch with customer support may be useful. You can download PhoneRescue to have a try.