iTunes Error
How to Fix iTunes Error 50 Easily
Summary
Have you ever encountered an error message called iTunes error 50 when you try to sync data or download in iTunes? Read this post to find out why it occurs and how to fix it.
This well-rounded iOS data transfer tool – AnyTrans can help you smartly manage and transfer all kinds of iPhone/iPad/iPod data like music, message, photos and more. Download it to have a try.
What is iTunes Error 50 and Why it Occurs
iTunes error 50 is a common error message that always comes up when your iTunes can't connect to its database server which prevent you from accessing your library and syncing data, also occurs when you try to download from iTunes Store. When it happens, the sync and download on iTunes would fail, so, it's indeed an annoying issue. Well, why it occurs? In fact, this can happen for variety different reasons, for instance:
Network problems
Firewall settings
Anti virus protection
Corrupted iTunes registry on your Windows
How to Fix iTunes Error 50
1. Reconnect your iOS device
Unplug and plug your iOS device to check if it works. Or try to use a different USB cable and another USB port of your computer.
2. Re-install iTunes
Make sure you are running the latest version of iTunes. Since iTunes could have been installed on your computer with faulty network settings, so, re-install iTunes may fix this error simply. You can click here to download the latest version of iTunes: https://www.apple.com/itunes/download/
3. Check Firewall/Antivirus Settings
In some cases, firewalls or antivirus software will stop any operations from iTunes, which may be thought as a suspicious program. Hence, you should check the blocked software list to make sure iTunes is not in the blocked list.
4. Delete all contents from "Downloads" folder
When timeouts or conflicts trying to write a file during download will cause this error, so, you can try to delete all the files from the Downloads folder on your computer.
5. Clear out the Registry of your computer
iTunes registry on Windows could go wrong about the settings, or might just get corrupt and result in showing iTunes error 50. So, you should regularly erase the registry in your Windows computer.
6. Check the SIM card
Just remove the SIM card from your iOS device and try to restore it via iTunes without a SIM card to do iTunes error 50 fix.
Also Read: How to Transfer Playlist from iTunes to iPhone >
Bonus Tip: Best iTunes Alternative Helps You Transfer Data in an Easy Way
When talking about transfer data from computer to iPhone, most iPhone pro will recommend iTunes. What if you want to transfer data from your iOS device to computer? In this case, you need AnyTrans, the well-deserved best iTunes alternative, which can enable you to transfer all the types of iOS data from your device to computer easily, including music, contacts, photos, videos, movies, ringtones, iBooks, calendars, notes and more. In addition, it allows you to transfer data in multi-direction, not only limited between computer and device, but also supports from device to device, between iTunes library and device, between computer and iCloud, from device to iCloud, from iCloud to iCloud, and even from iCloud to external hard drive directly.
As an iTunes alternative, AnyTrans is easy-to-use and won't have the risk of losing data. It works well on both PC and Mac computer, and is compatible with all the models of iPhone, iPad and iPod.
Here is a screenshot of AnyTrans on Mac.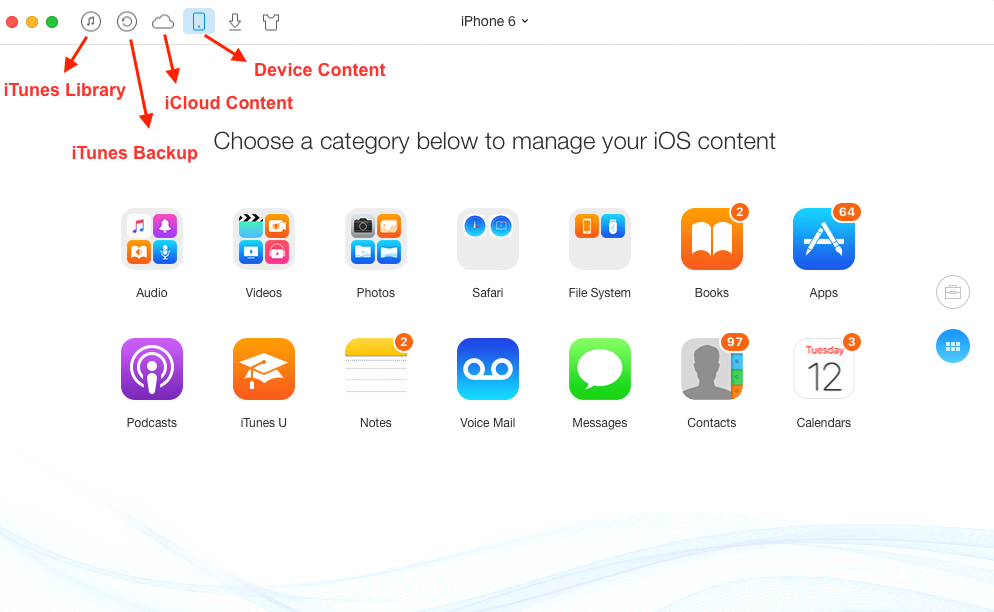 AnyTrans Overview
Now Download AnyTrans to Transfer Your Data in an Easier Way >
The Bottom Line
Solutions for fixing iTunes error 50 are summed up above in this guide; hope one of them can work for you. At last, if you want to transfer your iOS data in an easier way, you can give a try on AnyTrans.
More Related Articles You May Like
Share Your Thoughts With Us