How to Share Your iTunes Library – In 3 Simple Methods
How to share your iTunes library with your families or friends with ease? In this guide, we will show you several ways to share iTunes Library between users without data loss.

Joy Taylor
Last Updated: Apr. 22, 2022
iTunes Tips & Issues
In this post, you're going to know all the available methods you can try to share iTunes Library with your families or friends. No matter you are using a Mac or Windows PC, you can find solutions in this guide.
This guide includes methods as follow:
So if you want to share your beefy iTunes library with others, you'll love this guide. Let's dive right in.

Method 1. Share iTunes Library on Local PC Network
On a local network, you can set up to 5 computers to share iTunes libraries with each other.  If a shared computer is turned on and iTunes is open, you can play that computer's shared items on other computers in the network. Here are the detailed steps of sharing the iTunes library on a local PC network.
Step 1. Open your iTunes on your computer, click Edit > Preferences, then click Sharing.
Step 2. Tick "Share my library on my local network".
Step 3. Select the items you want to share with your friends or families. Here you can also tick "Share the entire library".
Step 4. To require anyone to enter a password before they can see your shared items, select "Require password," and enter a password.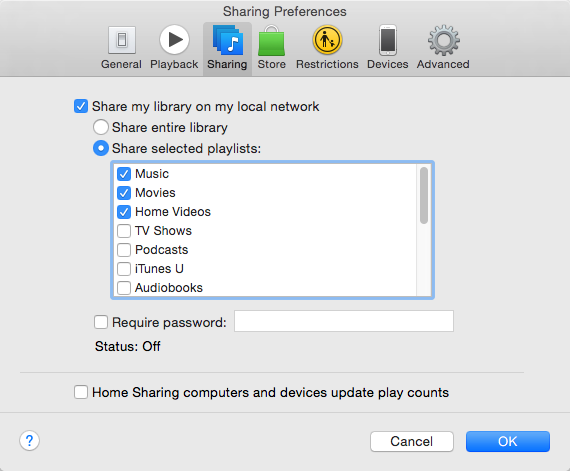 How to Share iTunes Library with iTunes
Method 2. Share iTunes Library with Home Sharing
Apart from sharing on a local network, another choice you can try is to share the iTunes library with Home Sharing, but there are some limitations:
The computers need to be on and awake, and iTunes needs to be open.
Your shared iTunes library will appear on other computers, iOS devices using iOS 4.3 or later, and Apple TV (2nd and 3rd generation).
On the shared computer, you need to have Home Sharing turned on, use the same Apple ID, and the same home network.
To enable iTunes sharing in your Windows PC, just go to System Preferences on your PC > Security > Firewall > Click on Advanced to allow the media sharing option through iTunes.
Steps to share iTunes library with Home Sharing:
Open iTunes on your computer and sign in with your Apple ID. Use the same Apple ID on the computer or device on your Home Sharing network.
Go to File > Home Sharing > Turn on Home Sharing.
Click Done.
On another Mac or PC, open iTunes. Repeat the steps above to turn on Home Sharing. You can turn Home Sharing on for up to 5 Macs or PCs.
You can now share music, movies, TV shows, apps, and more from one authorized computer to another.
Method 3. Share iTunes Library with AnyTrans
If you failed to share your iTunes library with the above methods, there's another way you could try, which is using a third-party tool to manually transfer your iTunes library to your friends' or family members' iPhone. Here we recommend an all-in-one tool – AnyTrans.
AnyTrans is an iOS extractor and transfer that is capable of sharing iTunes library from between iPhone users. You won't need to use the same Apple ID on both iPhones or connect to the same home network.
AnyTrans – Share iTunes Library
Extract all the media files in your iTunes library.
Allow you to share content in iTunes library to any iPhone.
Transfer files from iPhone to iPhone, and to computer as a backup.
Work well with all iPhone models as well as iOS systems.
Step 1. Download AnyTrans and run it > Connect the iPhone (your mother's iPhone or your friend's iPhone) to your computer.
Step 2. Choose "iTunes Library" mode at the left panel of AnyTrans. Select the songs or movies to share with any iPhone by clicking the "To Device" button on the upper right corner.
With AnyTrans, you can directly share content from one iPhone to another, and to computer.
See Also: How to Add Music to iPhone with/without iTunes >
What if you find out the songs lost after sharing iTunes library with your friends or families? Don't worry, all you need is a trouble-free iPhone data recovery – PhoneRescue to recover what you want.
The Bottom Line
Sharing iTunes library with AnyTrans is easy and straightforward, and you can also share messages, contacts, notes, photos and more from one iPhone to another with it.