How to Fix iPhone Won't Sync with iTunes After Upgrading to iOS 11/10
Summary
iPhone 6 won't sync with iTunes? iPhone cannot be synced with iTunes after updating to iOS 11/10? Read this post to fix it on iPhone 8/X/7/6s/6/5/5s/4s.
This powerful tool can help you sync data between iPhone and iTunes. Supports iPhone 8/X/7/6s/6/5s/SE. Just give it a try.
"After updating to iOS 11, iTunes cannot sync music/photos to my iPhone 7, even if I downloaded and installed the latest iTunes 12.7 on my pc and recently updated to the new iOS 11.0.1" – One iPhone 7 user complained on Apple forum about iTunes sync problem in iOS 11.
You May Like: How to Turn Off Two Factor Authentication for Apple ID >
Although Apple has always been releasing iTunes to fix bugs on syncing iPhone music and playlists, there are still some iTunes issues you may meet when syncing songs, playlists, photos or some other types of data from computer to iPhone or iPad after iOS update, especially when you are one of new iPhone 8/X/7/6s/6 users.
In this post, for fixing "iTunes won't sync" problem, we offer some basic tips, which we think would be helpful for the solving of some iTunes sync problems in iOS 11/11.0.1, and even the iOS 10 not syncing with iTunes issue.
Note: If you are looking for ways to fix iTunes won't sync music/songs to iPhone, you can directly refer to this guide of ours: How to Fix: iTunes Not Syncing All Songs/Music on iPhone/iPad/iPod >
Must Read: How to Fix My Photo Stream Not Working on iPhone iPad >
Tips to Fix iPhone Won't Sync with iTunes in iOS 11/10
There are some simple tips that you can use to fix "iPhone won't sync with iTunes after an iOS update". Now let's check the basic tips below.
Don't Miss: How to Fix App Store Won't Download/Update on iPhone >
Tip 1. Change another USB cable.
Tip 2. Check WIFI connection.
Tip 3. Update iTunes to the latest version.
Tip 4. Turn off iCloud Music Library and iTunes Match on iPhone: Tap Setting > Music to turn off it.
Tip 5. Turn off "Show Apple Music" on iPhone: Tap Setting > Music to turn off Apple Music.
Tip 6. Turn off "Show Apple Music" on iTunes (Computer): iTunes > Edit > Preferences > General > Turn off Show Apple Music > Click "OK".
Tip 7. (For sync error 54) Read guide to fix iTunes sync error (-54).
Tip 8. Use iTunes alternative. You can use AnyTrans to sync selected files from iTunes to iPhone. It supports iOS 11/10/9/8/7/6/5.
Download AnyTrans > Click iTunes Library button > Select the music > Click to Send to Device icon.
Fix iPhone Won't Sync with iTunes – Use AnyTrans
You are suggested to read our previous guide - iTunes 12 sync issues and solutions, which shows you the most common sync issues you may meet when using iTunes 12, including cannot sync music, waiting for items to copy, iPhone can't be recognized etc.
Bonus Tip: Why My iPhone Won't Sync Music to iTunes? How to Fix
As we know, iTunes can't sync data back to iTunes library. So if you want to sync iPhone to iTunes, you have to use some iTunes alternatives. Below we show you how to use AnyTrans to transfer selected items from iPhone to iTunes step by step. Before we start, let's download AnyTrans free trial to computer first.
Step 1. Run AnyTrans and connect your iPhone to computer. Once your iPhone is recognized, scroll down to get the categories that you can transfer to your iTunes library.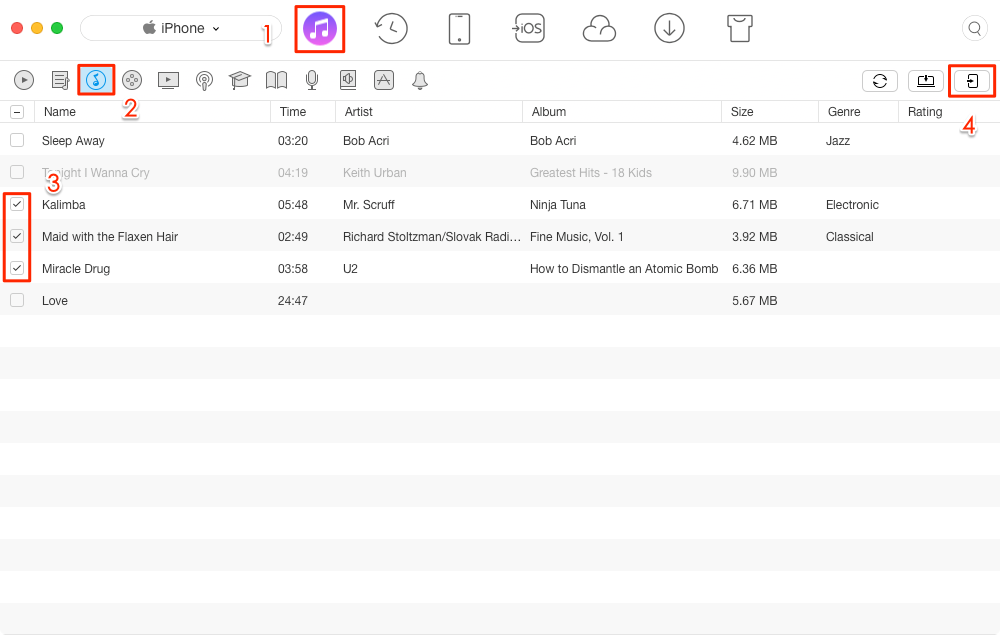 How to Fix iTunes Won't Sync Music to iPhone – Step 1
Step 2. After clicking into any category, you can select items and transfer them to your iTunes library. For example, after going to Audio > Music, you can transfer selected songs from iPhone to iTunes.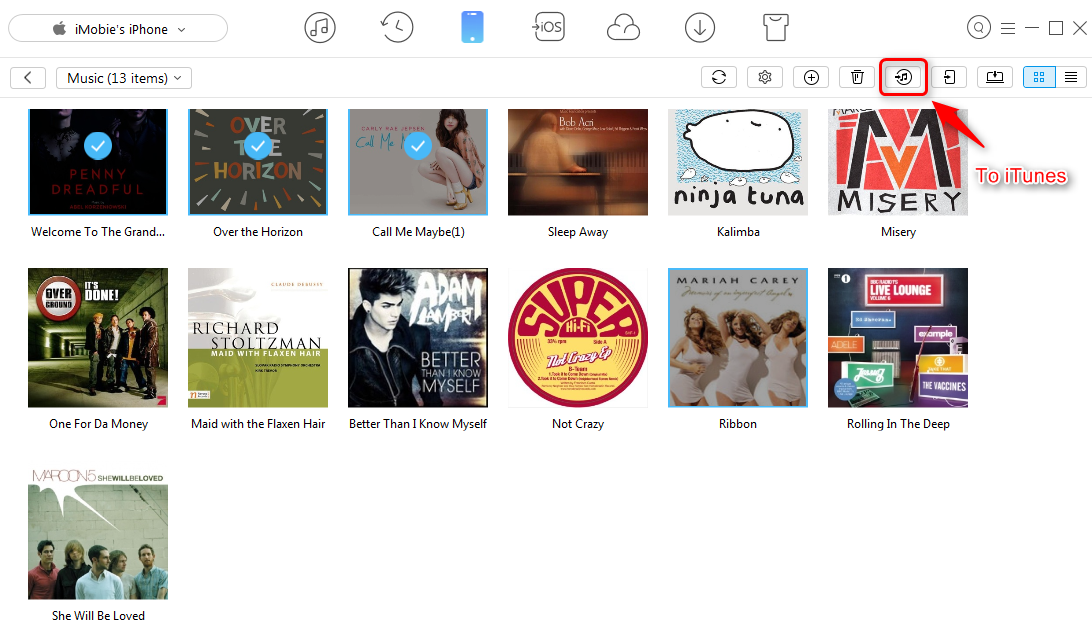 How to Fix iTunes Won't Sync Music to iPhone – Step 2
By using the menu bar on the top right corner of the screenshot above, you can add songs to iPhone from computer directly, or transfer songs to computer/iTunes/another device.
Also Read: How to Fix iTunes Not Recognizing iPhone >
The Bottom Line
If you have any workaround to fix the iPhone won't sync with iTunes after iOS update problem, please leave a comment below to share with others. At the same time, don't forget to download AnyTrans and try it free. And here we also list you some other iTunes syncing problems and solutions you may like:
Some Songs Won't Sync from iTunes to iPhone >
iTunes Won't Sync Videos to iPhone/iPad >
Top Posts on Switching Android Phone to iPhone:
More Related Articles You May Like
Share Your Thoughts With Us