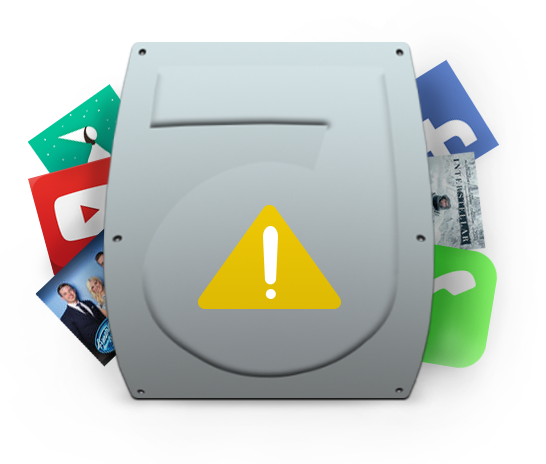 Quick Fix iTunes Backup Problem


Not Enough Space Is Available on Computer

[Last Updated: Aug. 11, 2017]

I am plan to update to iOS 11, so I am trying to back-up my iPhone 6 to a MacBook pro, but get an error message saying that I do not have enough free space. After emptying my trash and checking my available HD space, it shows that I have over 100gb left, enough to backup my 16GB iPhone. I do not have time machine set up and my HD is not partitioned. Is anyone else having this problem? Any suggestions?

Don't Miss: How to Fix iPhone Won't Sync with iTunes After Upgrading to iOS 11/10/9 >

When you're backing up your iPhone, iPad, or iPod touch to iTunes, you might see an alert message says, "iTunes could not back up the iPhone because not enough free space is available on this computer". In this iMobie post, we will show you how to solve this not enough space to backup iPhone problem and offer you an iTunes alternative to help you backup iPhone without iTunes.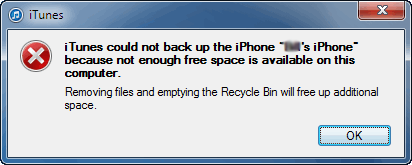 iTunes Cannot Backup iPhone – No Enough Space on Computer
How to Fix Not Enough Space on Computer to Backup iPhone/iPad Problem
Firstly, you should check your computer usage, and make sure that you have at least 5GB available space on computer. If your computer is running out space, and you are using a Mac, you can refer to this How to Free up Space on Mac guide to get several solutions.
If your computer has enough room but this message keeps popping up when you are backing up your iDevice, you can try performing the steps below.
1. Restart your Mac or PC and iOS device (iPad, iPhone and iPod Touch).
2. Make sure you are using USB port correctly.
3. Delete corrupted backups. Launch iTunes: go to iTunes > Preferences > Devices. Select the backup file and click the Delete Backup button.
4. Install latest version of iTunes, now Apple released iTunes 12.5.1 to supports the new iOS 10 update. You can run your iTunes, check for the new update and install the latest iTunes.
Don't Miss: What to Do If I Forgot Backup Password After Encrypting It in iTunes >
Alternative Backup Solution: Back up Your iPhone/iPad/iPod with AnyTrans
If the above methods still not solve this problem, you can try using an iTunes alternative to back up your iPhone, iPad, or iPod. AnyTrans, is the best award-wining iTunes alternative that you can rely on. To make the best use of your computer space, AnyTrans allows you to selectively back up the specific data on your iPhone instead of the iTunes full backup. Now check the designed features of AnyTrans:
1. It is an iOS content management tool made for all iPhone, iPad, and iPod models as well as the latest iPhone 7/6s/SE/6 and iPad Pro.
2. It takes care of every piece of your iOS data, including photos, music, videos, contacts, messages, notes, calendar, books, apps, etc. AnyTrans allows you to transfer all or selected data from your iDevice to computer and even to an external flash drive as backup.
3. It provides you one-click to back up iDevice to iTunes, including contacts, bookmarks, calendar, voice mail, notes, messages, etc.
4. It also supports transferring data from iDevice to iDevice, and from computer to iDevice without erasing the existed data on your iPhone, iPad or iPod.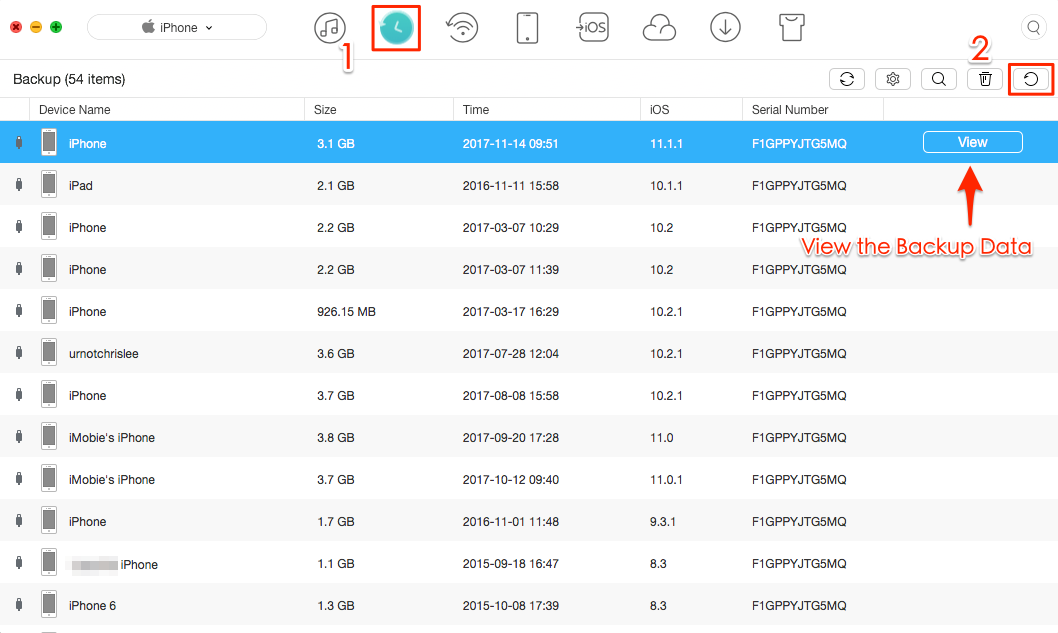 Back up Your iPhone/iPad/iPod with AnyTrans
Also Read:
How to Transfer Data from iPhone to iPhone 6 >
How to Set up iPhone 6 Correctly >
The above are some useful solutions to fix the iTunes backup error messages problem: iTunes could not back up the iPhone because not enough free space is available on this computer. As you can see, AnyTrans would be your best helper to selectively back up iDevice data when you cannot back up your iPhone/iPad/iPod with iTunes.
Join the Discussion on iTunes Backup/Restore Problems
How to Fix Not Enough Space to Backup iPhone Problem