How to View iPhone Backup Files on PC/Mac and Access Backup Data
This post gives you a quick way to view iPhone backup files on Mac and PC computer, and helps you easily preview the contents on iTunes backup files.

Roger Smith
Last Updated: Apr. 10, 2020
iPhone Backup Tips
Backup iPhone Data
iPhone Backup Locations
Backing up the iPhone (Surely as well as other devices you are using) to iTunes and iCloud must be the greatest ways to save you from data loss. Because we cannot imagine how and when the data probably disappears. But when it happens, we can easily find the data back from the backup file(s), if you did it before.
And in this guide, our mission is exactly to help you figure out how we can access the backup on the PC or Mac.
Can I View iPhone Backup on PC or Mac?
Well, this is really depending on what you mean. If you just want to check the file itself, not including what is inside it, then the answer is YES. While, if you mean that you want to view what data, like photos, messages, etc. there are in the backup file, then you probably would feel a little disappointed, because the Apple rewrite the saved data in different formats and encrypts them. You cannot view the saved data directly.
However, that does not mean that there is nothing we can do with it. To view the backup, we need to take some different ways. Before we head to the detailed methods, we first need to figure out where exactly the backup files are saved on the PC and Mac. Here we go.
Where Are iPhone Backup Files Stored on PC and Mac?
For iTunes Backups
On Windows XP:

 

\Documents and Settings\(username)\Application Data\Apple Computer\MobileSync\Backup\
On Windows Vista, 7, 8 and 10:

 

\Users\(username)\AppData\Roaming\Apple Computer\MobileSync\Backup\
On Mac:

 

~/Library/Application Support/MobileSync/Backup/
When you find the location where your iTunes backup is, please remember these tips before you take some other operations, to avoid ruining the backup file,
Please do not copy the Backup folder to move it to a different folder, external drive, or network drive.
Don't edit, relocate, rename, or extract content from your backup files, because these actions might ruin the files. For example, to restore from a relocated backup file, you need to move it back or the file won't work. Backups serve as a safe copy of your entire device. So while you might be able to view or access a backup file's contents, the contents usually aren't stored in a format that you can read.
For iCloud Backups
Here are the steps to locate the iCloud backup files,
On the PC: Open iCloud for Windows > Click Storage > Select Backup.
On the Mac: Choose the Apple icon menu > System Preferences > Click iCloud > Click Manage > Select Backups.
How to View iPhone Backups Files with Restoring
After we find where the iTunes and iCloud backup files locate, it is time to figure out how to view the backup files. As we have mentioned before, we cannot directly access the backup, since the data are encrypted. But we still can do it with some other methods which Apple allows.
The first method is by restoring your iPhone from the backup files. Well, this seems very silly and probably is not what you are looking for, because the restoring will require the device erased first. And after restoring, you view the backup file on the iPhone, not on the PC and Mac directly. However, it is truly a workable way for the users to access and view the backup, isn't it?
And here are the detailed steps for both iTunes and iCloud restoring, respectively,
iTunes
Connect your iPhone with the computer and open iTunes.
When your iPhone appears in iTunes, click the Summary option.
Click the Restore Backup option. If this option is grayed out, you may need to change your backup preferences from iCloud to Computer. You can always change this back after you have restored your iPhone.
This process can take a while. Wait for its finishing, and then you will see the saved data in the backup on your iPhone.
iCloud
Reset your iPhone. Go to Settings > General > Reset > Erase All Content and Settings.
Set up your iPhone. 

Follow the onscreen setup steps until you reach the Apps & Data screen, then tap Restore from iCloud Backup > 

Sign in to iCloud with your Apple ID > Choose the backup you want.
Wait for the process of complete. 

Stay connected and wait for a progress bar to appear and complete. Depending on the size of the backup and the network speed, the progress bar might need a few minutes to an hour to complete. If you disconnect from Wi-Fi too soon, the progress will pause until you reconnect.
If this restoring method is not what you want, then we have other ways to help you view the backup files. Check them in the following content.
How to View iPhone iTunes Backups Files on Mac/PC without Restoring
As we discussed, to view the contents on your iTunes backup, you have to restore your iPhone with the official way. Or you can seek help from iPhone backup viewers like PhoneRescue for iOS, which requires no restoring and enable you to view the backup file directly on PC/Mac, even move the files you want to your iPhone.
So below we take PhoneRescue as an example to tell you how to use a backup extractor to view the contents on iTunes Backup without restoring. If you want to follow us to view files on iTunes backups, just download the PhoneRescue and then follow the steps below.
3 Steps to View iPhone Backup Files on PC and Mac
Step 1. Install and run PhoneRescue for iOS on the computer, select Recover from Backup and click on the arrow button to get all iTunes backups.
Step 2.  Select an iTunes Backup file and choose the type of data you want to view in the backup. If you want to check all kinds of data, just tick Select All and click on OK.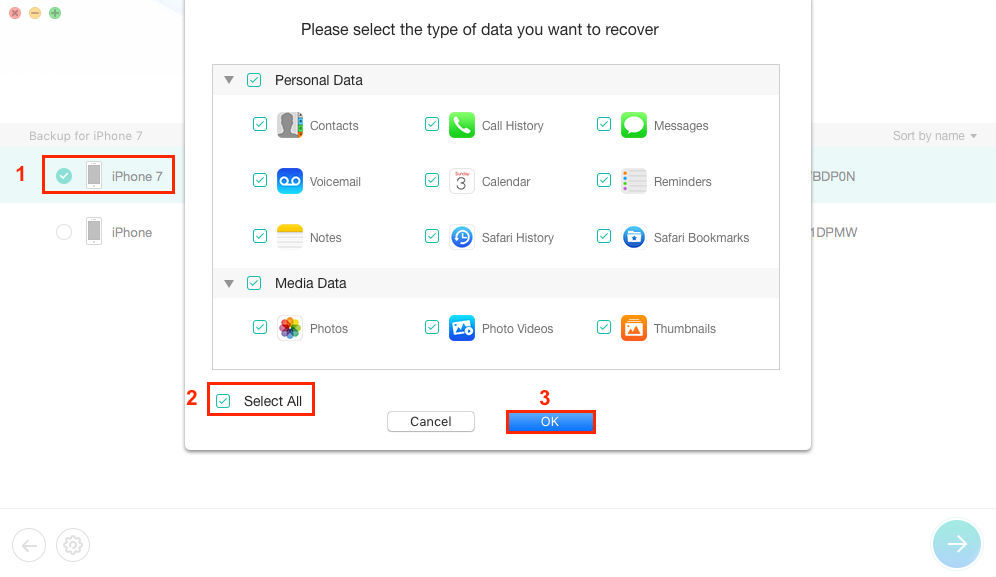 How to View iTunes Backups Files on PC/Mac – Step 2
If your iTunes backup is encrypted, you need to enter your backup password to allow PhoneRescue for iOS to scan your data. If you forgot it, you can refer to this guide to recover it with ease: 5 Best iPhone Backup Password Recovery in 2017 >
Step 3. All data will be grouped into some categories. You can select any category to have a preview, and can even extract files from backup to computer or directly to your iOS device.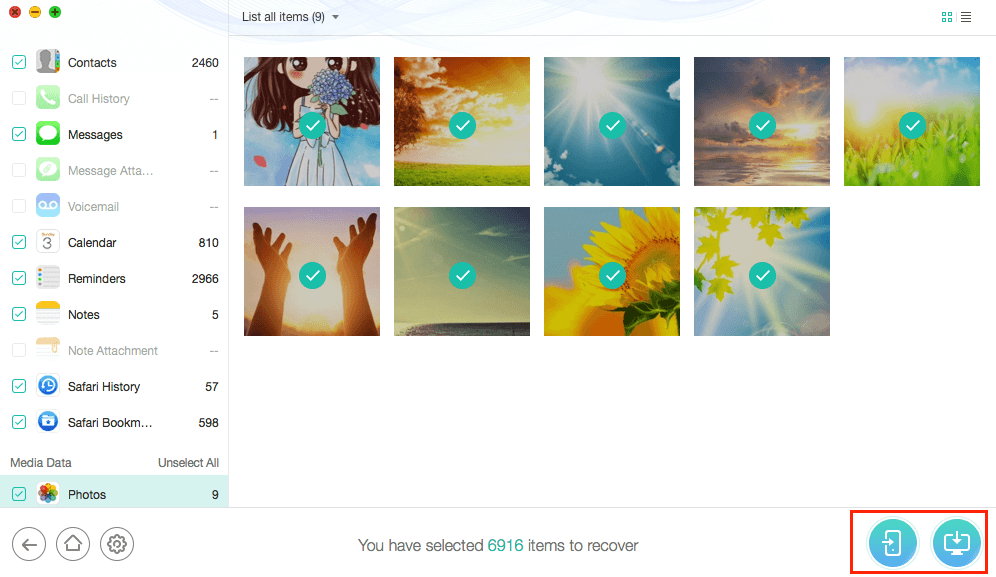 How to View iPhone Backups on PC/Mac – Step 3
How to View iPhone iCloud Backup Files on Mac/PC without Restoring
PhoneRescue of iOS can also access iPhone backup files on iCloud server and list all contents on the backup for previewing or extracting. To get the hidden files stored in iCloud using PhoneRescue, you can follow the below steps. And don't forget to download PhoneRescue to your computer firstly.
Step 1. Select Recover from iCloud and click on the arrow button.
Step 2. Sign in with your iCloud account to access all iPhone Backups.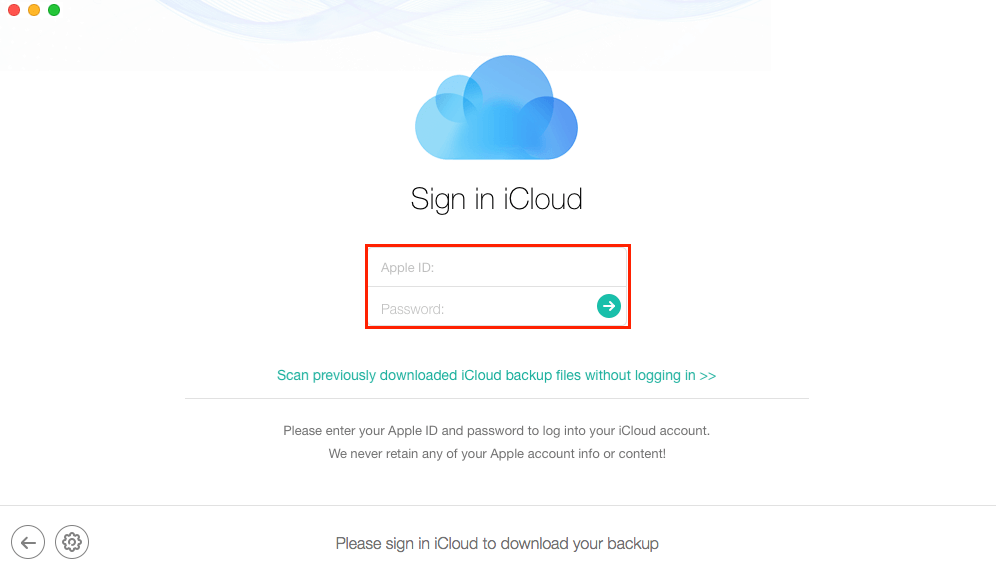 How to Access iPhone Backup Files in iCloud – Step 2
Step 3. Select an iPhone backup file and click on Download to download the backup to computer, and then select the data you want to view and click Okay to access them.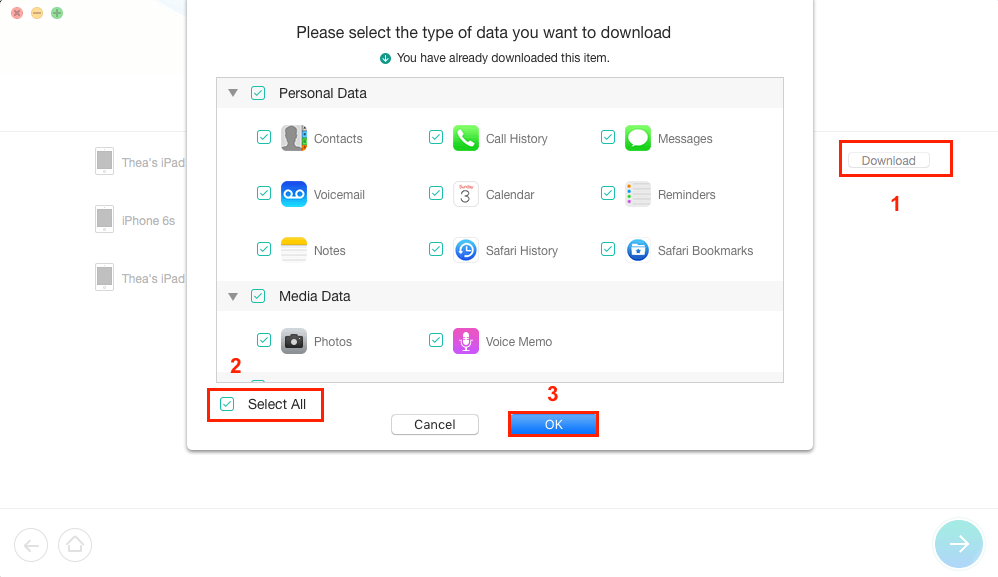 How to View iPhone Backup in iCloud – Step 3
Step 4. After downloading the whole iPhone backup, you can view the contents on the backup, and you can even click Recover button to get them back to your device or computer.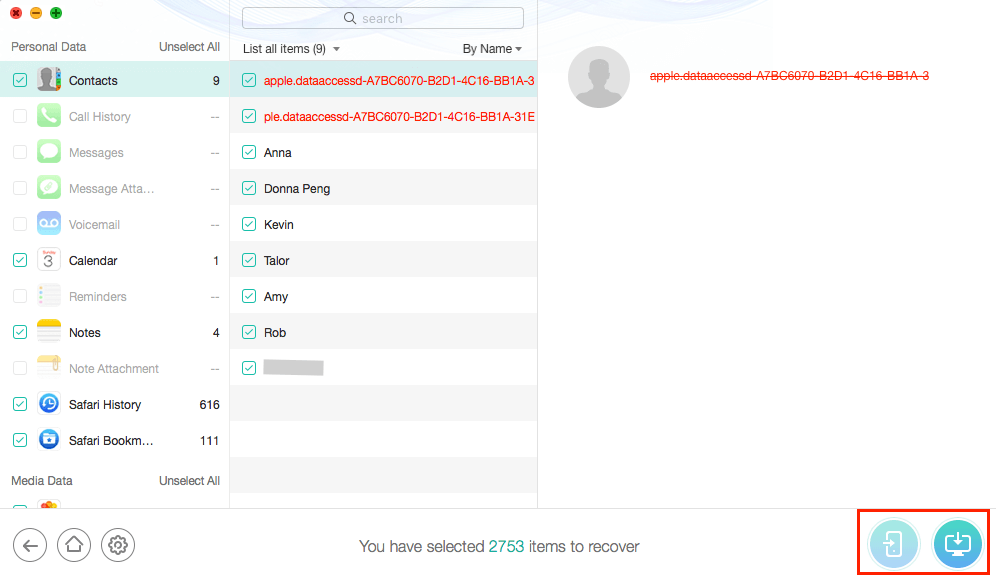 How to View Backups in iCloud with PhoneRescue for iOS – Step 4
The Bottom Line
That's it! Now you will be free to view and access iPhone backups on your Mac or PC. If you have any questions on this guide or PhoneRescue for iOS, please feel free to let us know. Or you can just discuss other methods to view iPhone backup files on the comment bar below.