There has been a survey that Samsung users, who have installed WhatsApp Messenger on phones, will check their WhatsApp several times a day. Indeed, more and more people are tending to take WhatsApp as their first choice to communicate with families, friends, schoolmates, etc. Because WhatsApp brings a lot convenience to our lives. It enables us to send messages, photos, and videos to share any detail about our lives with people. So it is hard to imagine how disastrous it would be when deleting WhatsApp messages by accident. But such thing happens indeed to some Samsung users.
If we delete WhatsApp messages on Samsung device by accident, there is no need to worry about it. We can get deleted WhatsApp messages back with many ways. If you have backed up your WhatsApp chat history, you can directly restore them. If unluckily you have not backed up them, but those deleted WhatsApp messages have not been overwritten, there are several Android recovery software to help you with it. If you are urgent in recovering deleted WhatsApp messages as quickly and successfully as possible, we recommend PhoneRescue for Android to help you with such emergency.
Also Read: Top Ways to Transfer WhatsApp Messages from Android to iPhone >
The Tool We Use to Recover Deleted WhatsApp Messages on Samsung Devices
PhoneRescue is a data recovery tool that recovers deleted or lost data for both Android and iOS users and PhoneRescue for Android aims to offer you one way to recover data like WhatsApp messages, photos from Android devices. With PhoneRescue for Android, you can:
1.Scan all deleted WhatsApp messages in a very short time. You can preview these deleted WhatsApp messages before selecting which ones you would like to retrieve.
2.Besides WhatsApp messages, it also supports other Android data recovering, such as contacts, messages, music, video, Photos, etc.
3.Besides retrieving data on Samsung devices, you can also recover data from Sony Xperia, Huawei, HTC, and other 6000+ Android device models.
With these significant features, PhoneRescue for Android is definitely your best answer to how to recover deleted WhatsApp messages on Samsung. So why not download it right now before talking about how to use it?
How to Recover Deleted WhatsApp messages on Samsung with PhoneRescue
Step 1. Install and run PhoneRescue for Samsung on computer, (it is compatible with both PC and Mac) then connect Samsung device to your computer.
Step 2. Select WhatsApp option > Click the Next button to scan your Samsung device.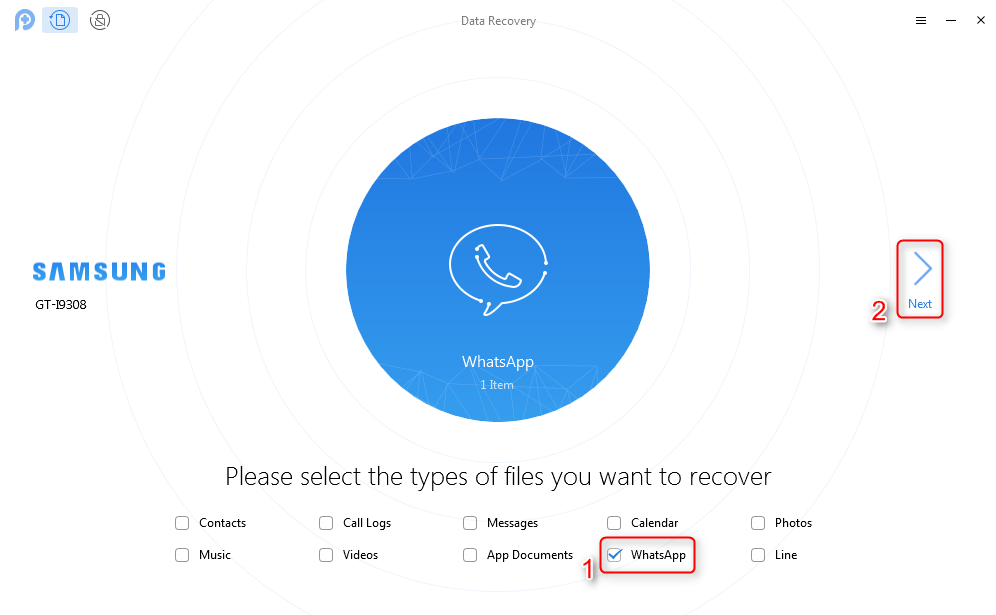 How to Recover Deleted WhatsApp messages on Samsung with PhoneRescue – Step 2
Step 3. There will be two scanning option: Deep Scan and Quick Scan. After scanning, deleted WhatsApp messages and attachments will be displayed > Check which WhatsApp Messages you would like to recover > Click the button at the right corner to recover them to your computer.
Don't Miss: How to Recover Deleted Text Messages on Samsung Galaxy >
The Bottom Line
If you have accidentally deleted WhatsApp messages on Samsung or other devices, please remember that do not take any operations on WhatsApp in case of overwriting, then download PhoneRescue for Android right now and use it to retrieve lost WhatsApp messages quickly. For any other questions about PhoneRescue for Android, leave your messages in the comments column.