How to Transfer Music from iPod/iPod touch to iTunes Library
Read on this tutorial if you found yourself in one of below situations:
Lose iTunes content by reformatting or upgrading computer, or due to any kind of data corruption.
Want to rebuild iTunes library but sick of ripping CDs or repurchase the songs you already own.
Want to merge iTunes library or extract new songs from multiple iDevices.
Free download AnyTrans on your computer (PC or Mac) firstly, and then follow this guide to transfer music from iPod (like iPod touch, iPod nano, iPod classic, iPod shuffle, etc.) to iTunes in minutes.
[ Last Updated: August.1, 2017 ]
iTunes keeps all your music in one place assuming they will be safe forever. Until one day you found your computer got a sudden breakdown, and all your lovely tunes saved there were lost. At this moment, an iPod or iPod touch could become a lifesaver. Whatever songs you purchased from the iTunes Store, or imported from CD collection, are supposed to have a full copy on your iPod (touch).
So how do you transfer music from iPod to iTunes? What about your artworks, your ratings and play records, and your playlists? Probably it took years to build up that beautiful music library, but how could you restore it again? Keep reading the rest part to get a practical method about how to move music from iPod to iTunes in minutes.
Tool to Transfer iPod Music to iTunes Library on PC/Mac
You know, iTunes just offers you a way to sync music from iTunes or computer to iPod or other iDevice, and it won't sync songs from iPod back to iTunes on your Windows or Mac computer. Therefore, to get music from iPod (touch) to iTunes, you have to use some third-party software. iMobie AnyTrans is the tool you need.
As a full-way iOS-transferring tool, AnyTrans supports transferring 24 + types of iOS contents, like Photos, Videos, Music, Contacts, Messages, Notes, etc., and it also allows you to transfer iOS content among iTunes library, computer and iDevice as you like. Especially, AnyTrans does great in managing iPod music, and fitted with some fantastic features, like:
Supports two-way transfer. Not only you can sync music from iTunes to iPod, and also can copy music from iPod back to iTunes or computer. Of course, when you can't sync iPod with iTunes, this is the best alternative to go.
Keeps your personal data, like playlists, ratings, plays, artworks. During transferring, the playlists, ratings, plays and other info also will be transferred as well as songs.
Super fast transfer speed. It just needs several minutes to transfer hundres of songs.
Developed by Apple Certified Developers, AnyTrans guarantees you with the safety of your digital files as well as the usability of the program. You won't lose any existing files on iPod or iTunes library when putting music from iPod to iTunes.
Except music, AnyTrans also supports transferring other iTunes contents, like, Movies, TV Shows, Podcasts, iTunes U, Audiobooks, Voice Memos, Apps and Ringtones. Whatever you want to transfer, AnyTrans is at your hand.
More than anything, AnyTrans supports all the modles of iPod and iPod touch, including iPod nano, iPod shuffle, iPod classic, the old iPod touch and the latest iPod touch 6. In addition, it can be downloaded to both PC and Mac, and is compatible with Windows 10/8/7/Vista/XP, Mac OS (X) and new macOS Sierra. Now Download AnyTrans and Start Tranfer >
How to Transfer Music from iPod to iTunes Library in 3 Steps
Step 1: Open AnyTrans > Connect your iPod or iPod touch to the computer.
Step 2: Because AnyTrans has different interface for iPod and iPod touch, according to the model of your device, and then follow steps below:
For iPod touch (including iPod touch 1/2/3/4/5/6) users: on homepage of AnyTrans, click Audio > Select Music.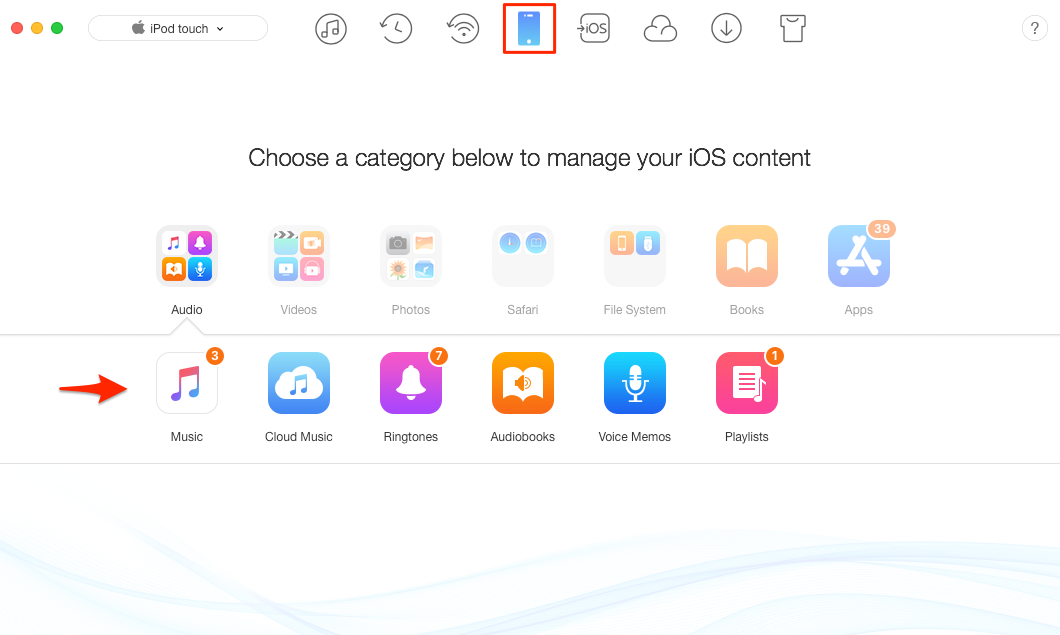 How to Transfer Music from iPod to iTunes with AnyTrans - Step 1
For iPod (including all the models of iPod Nano, iPod shuffle, iPod mini, and iPod classic) users: click Music on homepage of AnyTrans.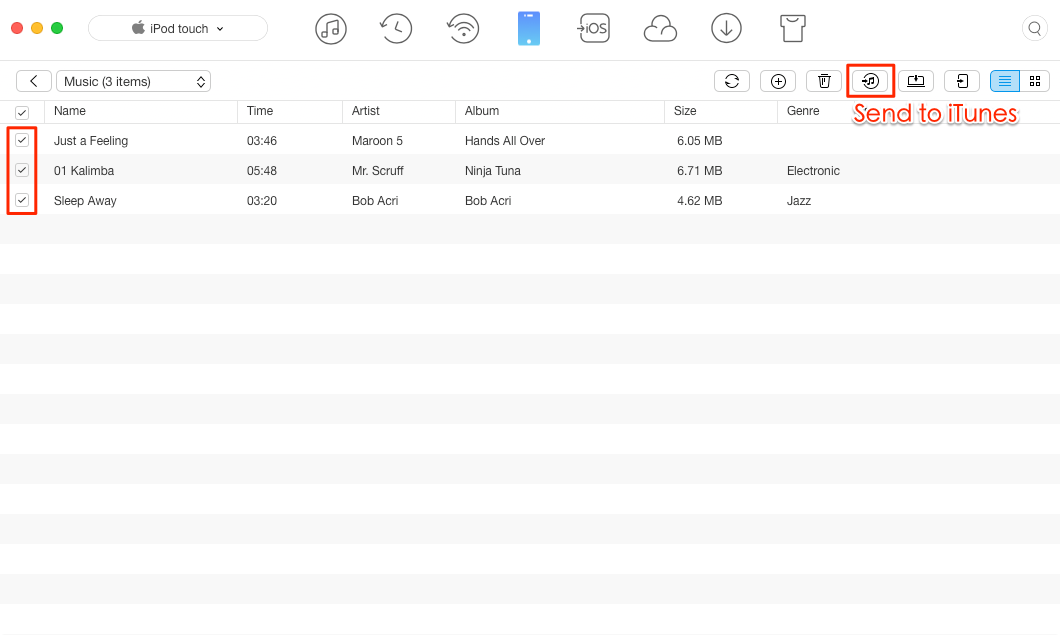 How to Transfer Music from iPod to iTunes with AnyTrans – Step 2
Step 3. Select the songs you want to transfer, then click the To iTunes button to import music from iPod or iPod touch to iTunes library.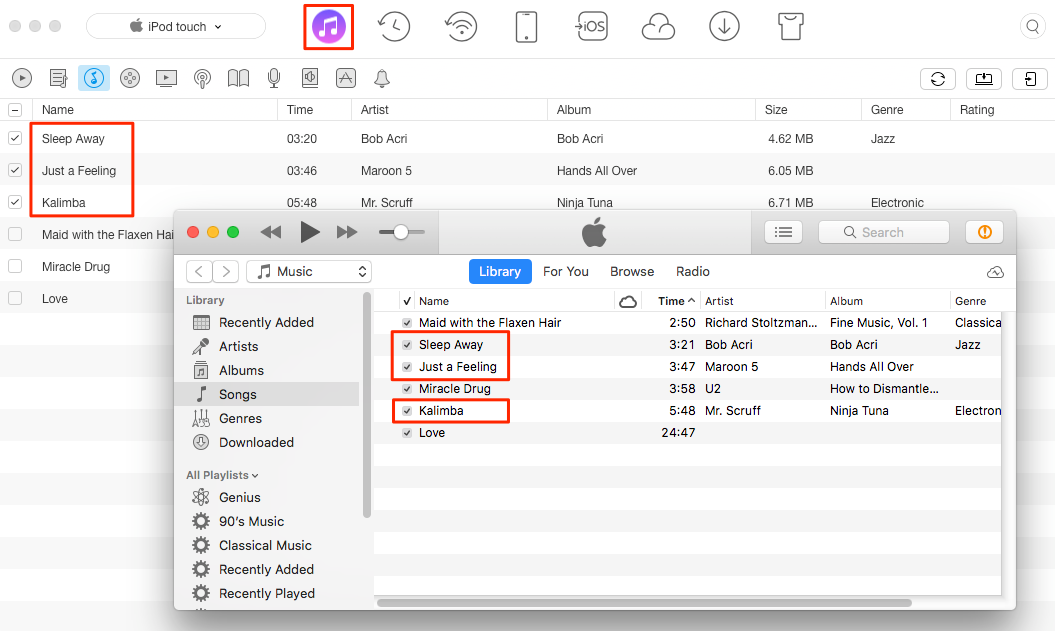 How to Transfer Music from iPod to iTunes - Step 3
With AnyTrans taking care of the technical challenges, you don't have to.
Start Free Trial
Apart from Transferring Music/Songs from iPod (touch) to iTunes, AnyTrans also:
Can be used to transfer music from iPhone and iPad to iTunes library, and you won't lose any existing data during transferring.
Helps you transfer iPod music to another iDevice directly, like iPhone, iPad, and even another iPod.
Allows you to transfer what you like from iTunes library to iPod or iPod touch, instead of performing a complete sync without choice.
Supports many audio formats, even some are not supported by Apple devices, like, m4a, m4b, m4r, wma, etc. During transferring, AnyTrans will convert these incompatible music or songs to the supported formats automatically.
Don't stop here, download AnyTrans now and start free trail. If you have any question or meet any problem when transferring iPod music to iTunes with AnyTrans, and please be free to contact us via Email.

By Vicky, a committed How-To expert at iMobie_Inc
User Ratings:
Total Downloads:3,754,407
Download Size:12.78 MB
I unloaded all the music off of my iPod Nano to iTunes with no problem. I just assumed because it was so old no software would support it-but hey...AnyTrans said it would work on any iPod, and it did. This was a great, super fast program.
Dec 27, 2012 | By Fangprintz
I've always put off getting any Apple product simply because I can't stand iTunes (too bloated & fiddly for my liking) & have never found any program that could replace it & be easy to use. Downloaded AnyTrans, tried it once & bought it immediately! Superb software, easy to transfer stuff to & from iPod.
May 31, 2013 | By Billy Bones