Why My iPhone Deleted My Messages and How to Get Them Back?
Why your iPhone deleted all your messages? Don't worry, this guide will tell you all the reasons and give you some potential ways to get them back.

Joy Taylor
Last Updated: Apr. 09, 2020
Vital iPhone Data Recovery Tips
iPhone Contact Recovery
iPhone Message Recovery
Today, I was unable to text anyone and I decided to turn off my phone for a while. Once I switched it on, my iPhone deleted all my texts. Why did my Phone delete my messages? What's wrong with it, and is there any way to retrieve my lost messages? iPhone 7 with iOS 12.
– A User from Apple Support Community
As an iPhone user, you should know that you may lose all of your messages due to some reasons, such as iOS upgrade, accidental deletion, device failure, etc. However, some users also say that they did nothing, but the message deleted itself on their iPhone. Why would this happen? Here in this guide, to help you remove the doubt, we will tell you the possible reasons of this issue and also give you some methods to get them back.
The Reason Why iPhone Delete All My Messages
A few operations will cause all your messages deleted from your smartphone:
1. Incorrect settings.
You may choose to keep messages in 30 days or 1 year instead of forever. You can go to Settings > Messages > Keep Messages to have a check. If it is not Forever, it is the reason that iPhone deleted all messages. And set the option to Forever, please, in case you will lose your messages due to this reason again.
2. iOS system bug or iOS update failed.
This seems to be the most possible reason why iPhone deleted your message conversations, based on the information and feedback from our users and others on the forums. Most of them have noticed that they lost their messages after updating to new iOS version. System problem may also get your messages lost accidentally.
3. Restore from a wrong backup.
This is not a common reason, but it did exist that some people lost data after restoring from a backup. Because people won't know what exactly iTunes or iCloud will back up.
These are pretty much most of the possible reasons why your iPhone deleted messages. And in the following content, you will get methods to get back your messages.
How to Get Back All Your iPhone Deleted Messages
Here we have listed 2 methods for you to retrieve your lost iPhone chats, from iPhone backup or directly recover your data with the help of a third-party tool. And below you'll get all these methods.
1. Restore Messages from iPhone Backup.
If you have regularly backed up your iPhone to iTunes or iCloud, this issue would become much easier. Because you can directly restore the iPhone from the iTunes backup or iCloud backup to get back your lost messages.
However, before we get started with the detailed steps about this way, we would like to notify you that it requires to erase your iPhone and the data on your device will be replaced by the data in the backup. In other words, you are getting back deleted messages at the cost of losing all the current data on your device.
And if you have known what such risk means to you and this way is still on your list, here we go with the steps. While if you do not like this way and are concerned about your data safety, you can jump this part to the next method.
iTunes Backup Restoring
Connect your iPhone with the computer you usually sync with and open iTunes.
When your iPhone appears in iTunes, click the Summary option.
Click the Restore Backup option. If this option is grayed out, you may need to change your backup preferences from iCloud to Computer. You can always change this back after you have restored your iPhone.
This process can take a while. Wait for its finishing, and then you will see the missing contacts in your Contact app again.
iCloud Backup Restoring
Reset your iPhone. Go to Settings > General > Reset > Erase All Content and Settings.
Set up your iPhone. 

Follow the onscreen setup steps until you reach the Apps & Data screen, then tap Restore from iCloud Backup > 

Sign in to iCloud with your Apple ID > Choose the backup you want.
Wait for the process to complete. 

Stay connected and wait for a progress bar to appear and complete. Depending on the size of the backup and the network speed, the progress bar might need a few minutes to an hour to complete. If you disconnect from Wi-Fi too soon, the progress will pause until you reconnect.
2. Recover iPhone Deleted Messages Directly without Using Backup
If you have no backups, it's hard to get back your messages actually. But there still a chance you can have a try to get back your lost data. With PhoneRescue, you can quickly scan your iPhone to see if there are some deleted text messages. And you can follow the steps below to make it.
Step 1. Download Free Trial PhoneRescue for iOS on your computer > Launch it > Connect your iPhone to the computer (PC or Mac) with its USB cable, select Recover from iOS Device and click the arrow button.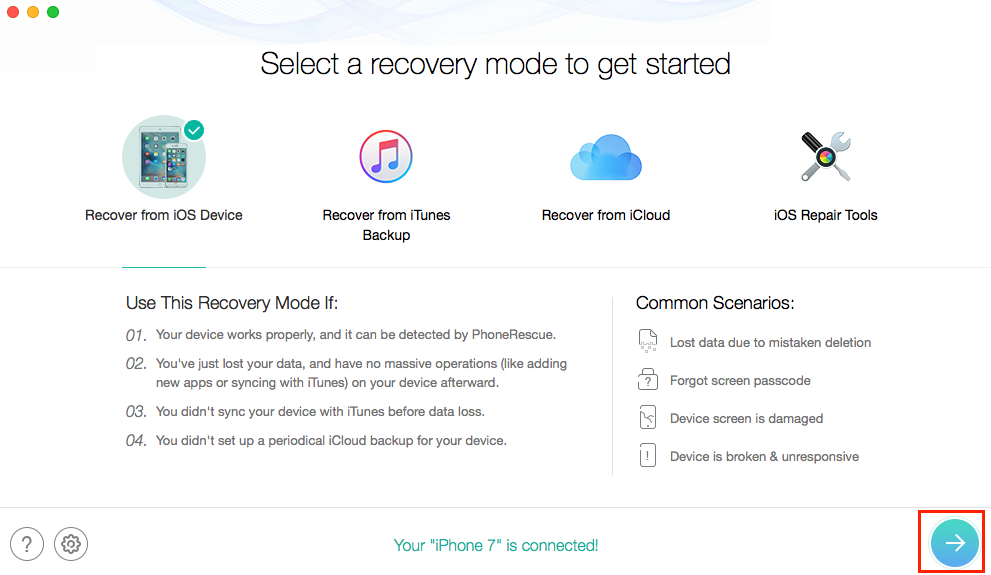 Quick Fix "iPhone Deleted All Messages" – Step 1
Step 2. Only select Messages and click on OK to let it scan this kind of data.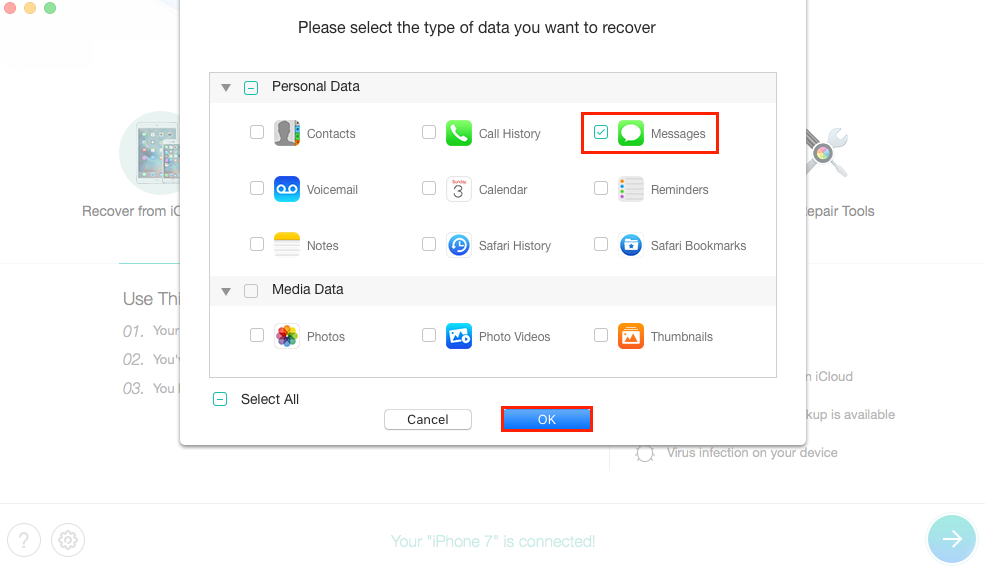 Quick Fix "iPhone Deleted All Messages" – Step 2
Step 3. Preview and select the messages you want to recover and click the Recover button at the bottom right corner to put them back to your device or to your computer.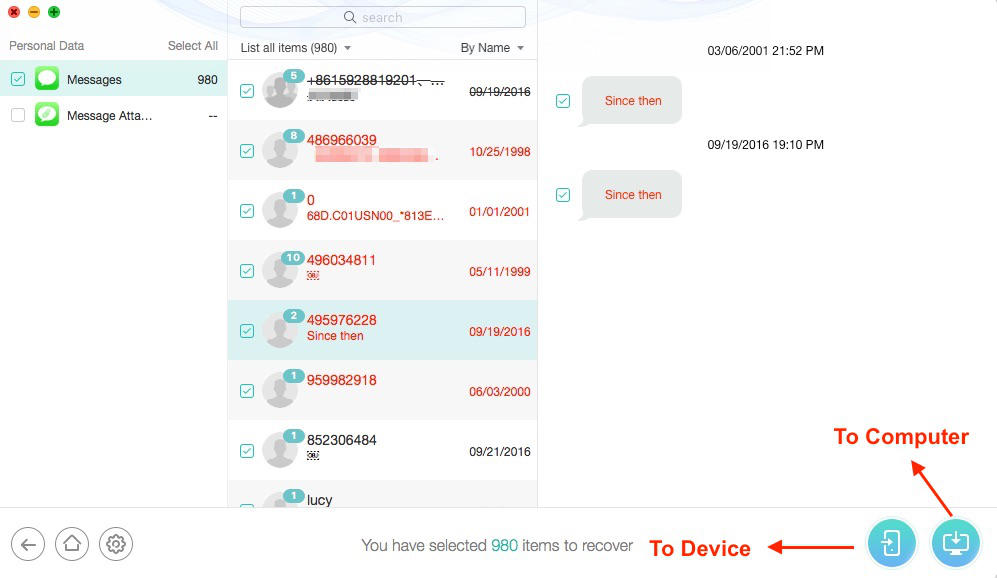 Quick Fix "iPhone Deleted All Messages" – Step 3
The Bottom Line
That's all for "why did all my messages delete on my iPhone" and the methods to recover the deleted messages. Just like you see, the reasons why messages got deleted are various, as well as the way to get them back.
It will be so lucky if you have backup your iPhone. And surely if you have no backup, there is still a tool, the PhoneRescue, which offers some easy-to-use methods to scan and recover the chats that your device deleted accidentally.