How to Restore Photos from iTunes Backup
Summary
How to restore deleted photos from iTunes backup? Read this post to extract only Camera Roll Photos from iPhone backup on your Mac and PC.
Download PhoneRescue for iOS to quickly access photos on your iTunes backup and recover your deleted photos from iTunes. Supports both Mac and PC.
By nature an iPhone is always in danger of getting damaged, lost or stolen. How about your important iOS data? To help you recover your lost or mistakenly deleted photos, messages and other data on your iPhone, we collected 5 top best iPhone Data Recovery Software and evaluate them carefully to provide valuable references for you.
From an Alaska journey to a family gathering, people are keen on shooting photos with their handy iPhone. However, so many reasons can get your precious photos get lost and deleted, such as accidental deletion by kids, a failed jailbreak or iOS upgrade, iPhone got stolen or lost etc.
When you lost or deleted photos from iPhone, the first thing you need to do is minimize the use of your phone to avoid that the old files got overwritten. If you have backed up your photos to iTunes regularly, you can easily restore photos from iTunes backup. But recovering photos from iTunes will erase your previous iPhone data. At this time, an iTunes backup extractor could be your best choice to get deleted photos from iTunes backup on your Mac or PC.
You May Like: Quick Guide to Recover Deleted Photos from iPhone >
Tool to Recover Deleted Photos from iTunes
In this post, we use PhoneRescue for iOS to restore deleted Camera Roll photos from your iTunes backup. By using this tool, you can easily access photos on iPhone Backup that you created on your Mac and PC. And you can even select only the photos you want and extract them to any folder on your computer. After that, you can easily sync these pictures to your iPhone by using iTunes. Besides pictures, contacts, messages, music, photos, and more are also can be retrieved from iTunes backup.
How to Restore Only Photos from iTunes Backup with PhoneRescue for iOS
Click here to go to the download page of PhoneRescue and choose PhoneRescue for iOS to download on your computer.
Step 1. Open PhoneRescue for iOS > Select Recover from iTunes backup > Click on Right Arrow to enter the next page.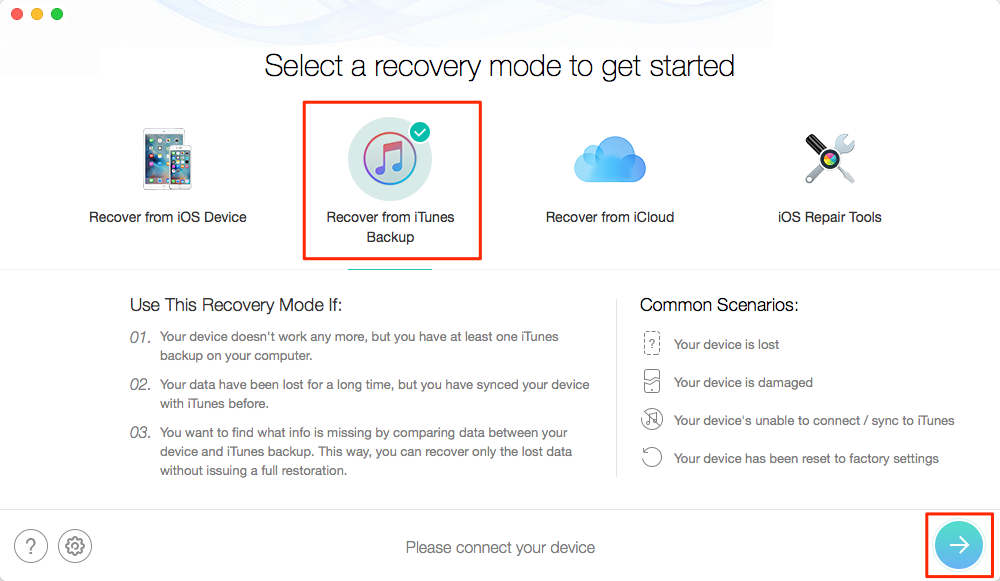 How to Restore Photos from iTunes Backup – Step 1
Step 2. Select the right iTunes backup, and click Right Arrow to proceed. You can choose to scan all data on backup or get only the differences between iPhone and backup.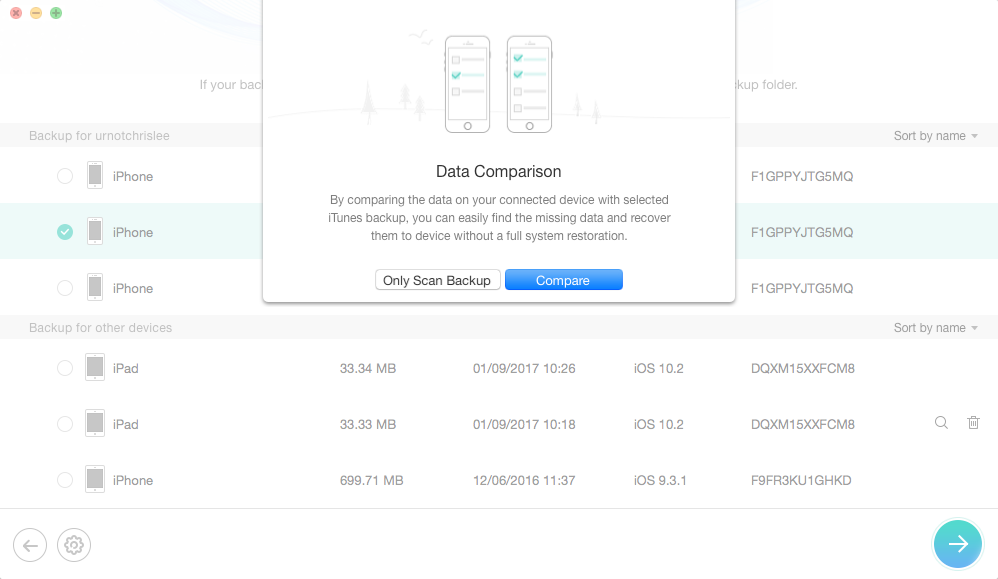 How to Restore Photos from iTunes Backup – Step 2
Step 3. By default, all categories will be selected. Please uncheck Select All option and then choose Photos. Click OK to confirm.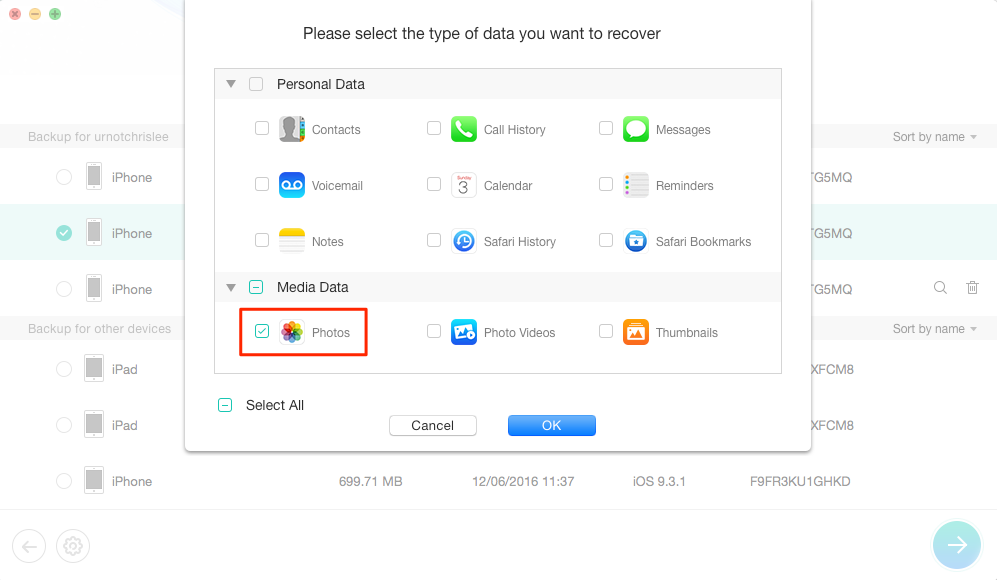 How to Restore Photos from iTunes Backup – Step 3
If your iTunes backup is encrypted, please input your encryption password to allow PhoneRescue for iOS to scan your data. If you forgot it, you need to recover iTunes backup password at first.
Step 4. Select Photos > Preview and select the photos you want to recover > Click on To iDevice button to recover them to your iPhone, or To Computer button to download them to your computer.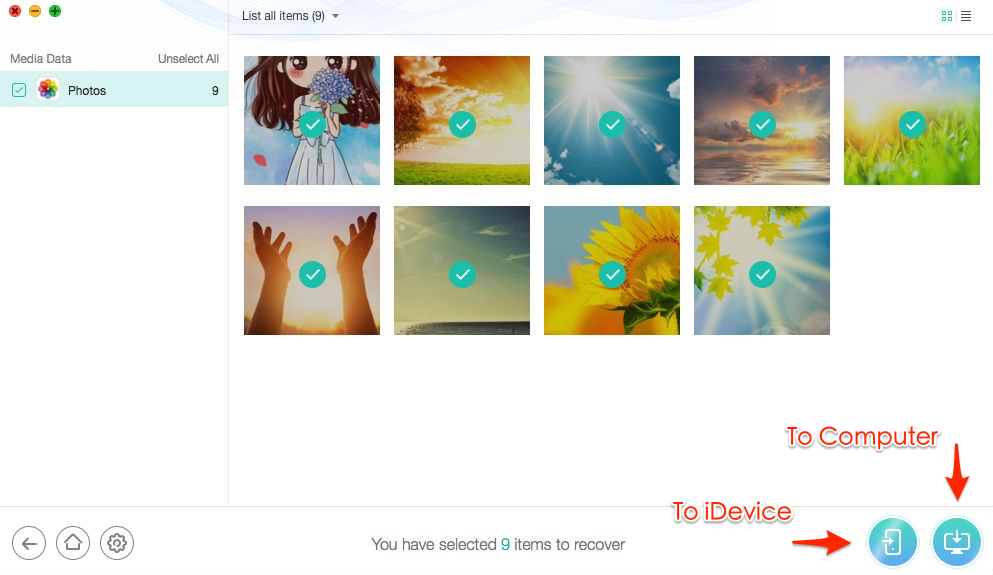 How to Restore Photos from iTunes Backup – Step 4
Must Read: How Can You Find iPhone iPad iPod Photos on iCloud >
The Bottom Line
After you recover the photos from iTunes backup, the photos will be stored on a computer file. If you want to transfer them to your iPhone or iPad. AnyTrans could be a perfect choice. If this guide solves your problem, please don't be hesitate to share it with your friends. Let PhoneRescue for iOS recover your photos from iPhone backup now.
More Related Articles You May Like
Share Your Thoughts With Us